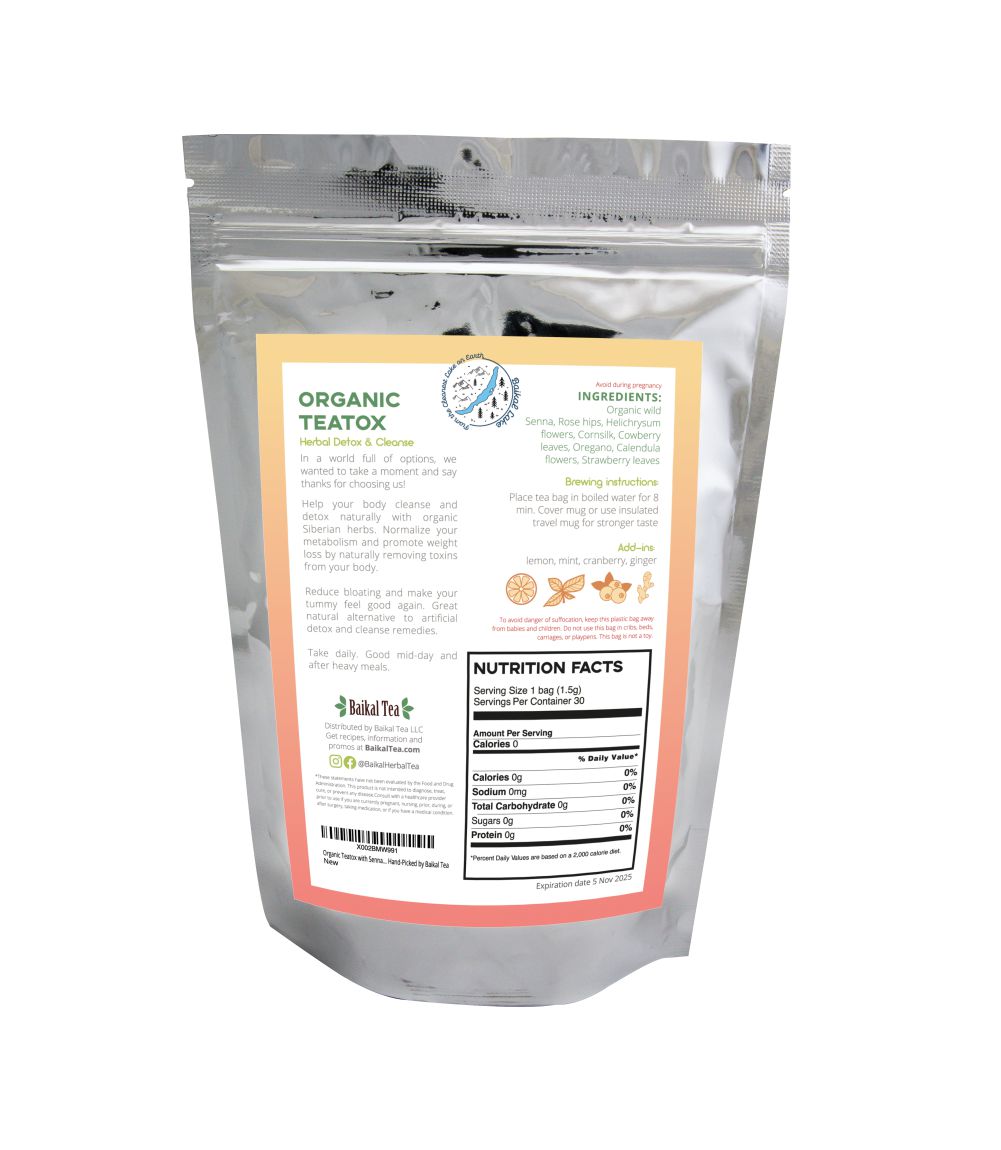 Organic Teatox
This Organic Teatox is your perfect companion to the start of a healthier lifestyle. Picture a tranquil tea garden in the heart of Siberia, the source of this unique blend. Each cup serves as an invitation to embrace a healthier lifestyle and a gentle yet effective detox.
Our Organic Teatox is not just another detox tea. Instead, it is a delicious natural brew that works harmoniously with your body to stimulate metabolism and provide relief when your tummy feels uncomfortable or heavy. This potent blend is your partner in achieving your weight loss goals, without the harshness of chemicals.
Known as the best detox tea for weight loss, our Organic Teatox has your wellbeing at heart. This cleansing tea doubles as a bloat-busting remedy, aiding in achieving that light and free feeling you crave.
Brewing Directions:
Brewing our Organic Teatox is simple and soothing. Immerse a teabag in freshly boiled water and let it steep for around 8 minutes. Allow the warmth and aroma to envelop you, signaling the start of your detox journey.
Why You'll Love Our Organic Teatox:
Our Organic Teatox isn't just a slimming detox tea; it's a lifestyle change, a commitment to your wellbeing. It's about respecting your body and providing it with what it needs to thrive. This naturally formulated blend is like a gentle whisper to your system, encouraging it to cleanse and restore itself without harshness or strain.
We at Baikal Tea are not just about selling a product. We're about offering a wholesome experience, a journey towards a healthier life. We believe in harnessing the power of Siberia's wild herbs, presenting it to you in a cup of our delightful Organic Teatox. When you choose us, you're choosing a partner in your wellness journey, a blend that supports you every step of the way.
Order Now
Organic Teatox
Sale price

$14.95
Regular price

$0.00
View details
All-Natural Detoxification
Organic Teatox provides a gentle yet effective detox without resorting to harsh chemicals. By assisting the body's natural detoxification process, it paves the way for enhanced overall health, leaving you feeling refreshed and revitalized.
Weight Loss Elixir
Beyond mere detoxification, this tea is an advocate for your weight loss journey. By supporting metabolism and assisting in natural detox, it creates an environment conducive to shedding those extra pounds.
Improves Metabolism
One of the standout qualities of this brew is its ability to stimulate metabolism. This not only aids in energy production but also boosts the body's calorie-burning potential, making weight management a more achievable endeavor.
Chemical-Free Cleanse
Unlike many commercial detox teas, Organic Teatox prides itself on its all-natural composition. This ensures you're nurturing your body with pure goodness, devoid of any synthetic additives.
Bloat Buster
Everyone despises that heavy, bloated feeling. With its unique blend of ingredients, Organic Teatox assists in alleviating bloating, granting you the much-desired sensation of lightness and digestive ease.
Tummy Soother
At times, our digestive systems need a little tender loving care. Organic Teatox rises to the occasion, offering solace for an upset or uncomfortable tummy, ensuring you feel your best from the inside out.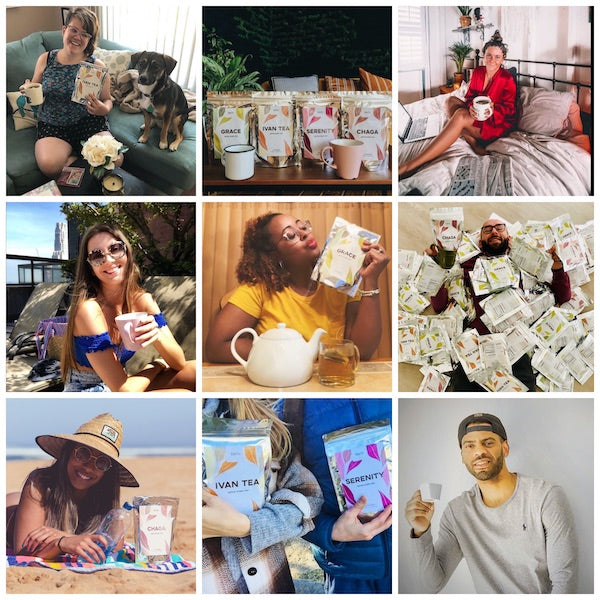 Why it's good for you
Organic Teatox is a harmonious blend crafted with nature's finest, designed to sync with your body's innate rhythms. By offering a gentle detox without the use of harsh chemicals, it helps purify your system, rejuvenating you from the inside out.
great
taste good and they serve their purpose.
OMG I feel better!
My mom visited and screwed up my entire life for a week. Her cooking left me with bloating, stomachache, extra weight, and regret. I can't say I've lost the weight yet, but after three days I'm free of bloat and the stomachache. That was my goal. I would continue with it to try and lose the weight, but it says to not use it if you are pregnant, and I'm trying to conceive. I am so happy my stomach feels better, though!
Gentle
Love this tea! Great cleanse & gentle
Great detox tea!!
Very gentle body detox. Helps me feel MUCH better after heavy meals!! Works like a charm
Grace
Loving this tea, I was concerned about trying it not knowing if it would taste ok. My whole family has been drinking it and we all enjoy. Definitely no stronger flavor than any other tea.