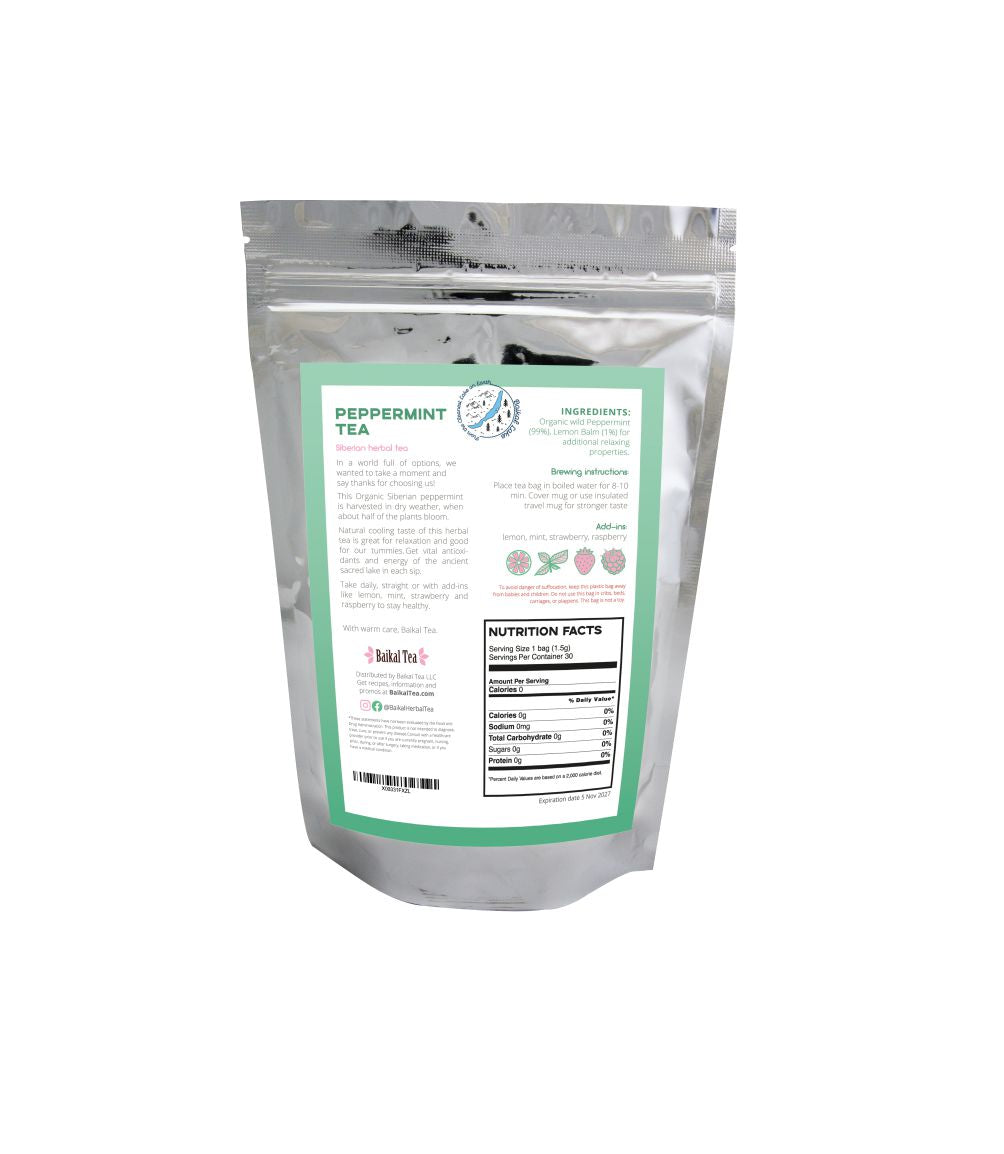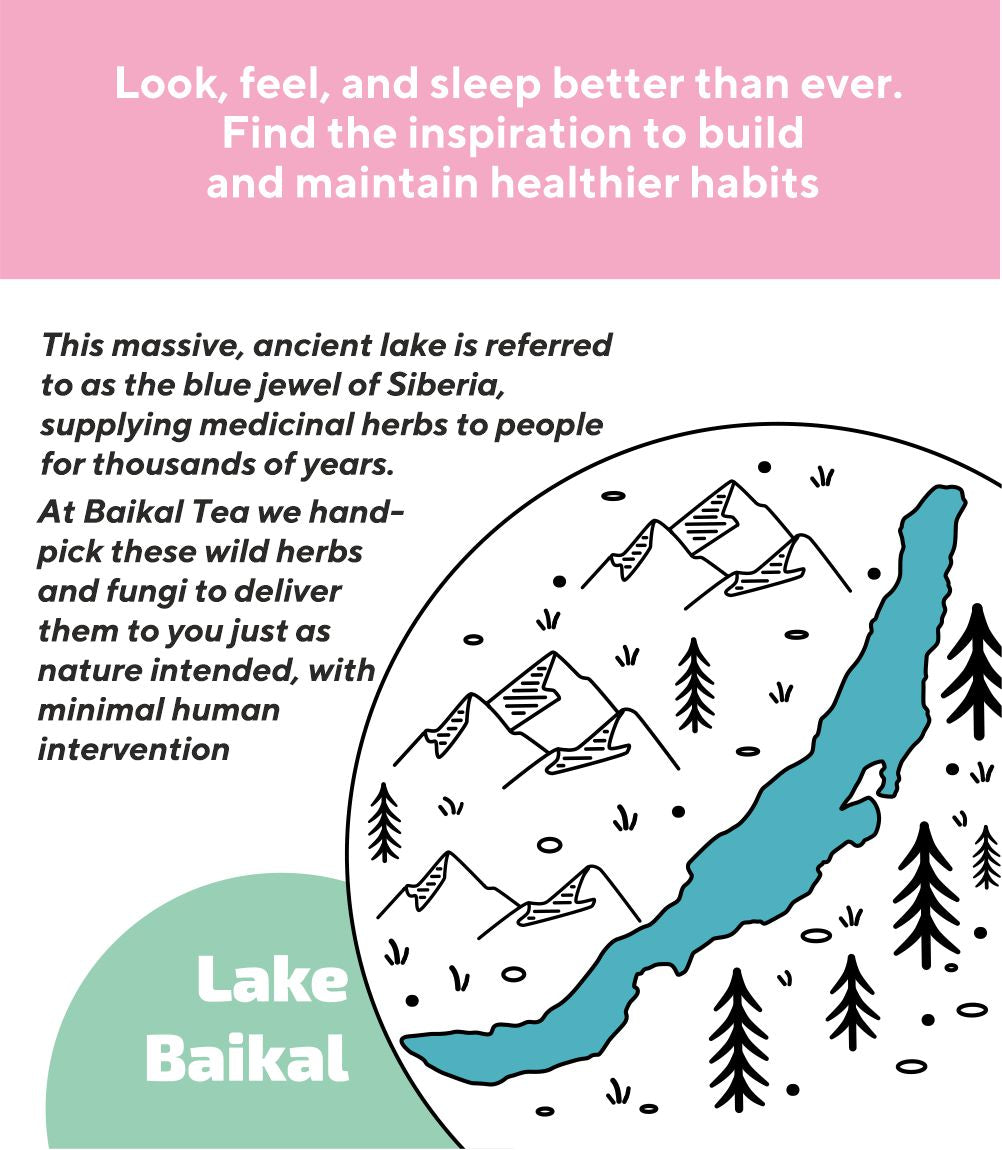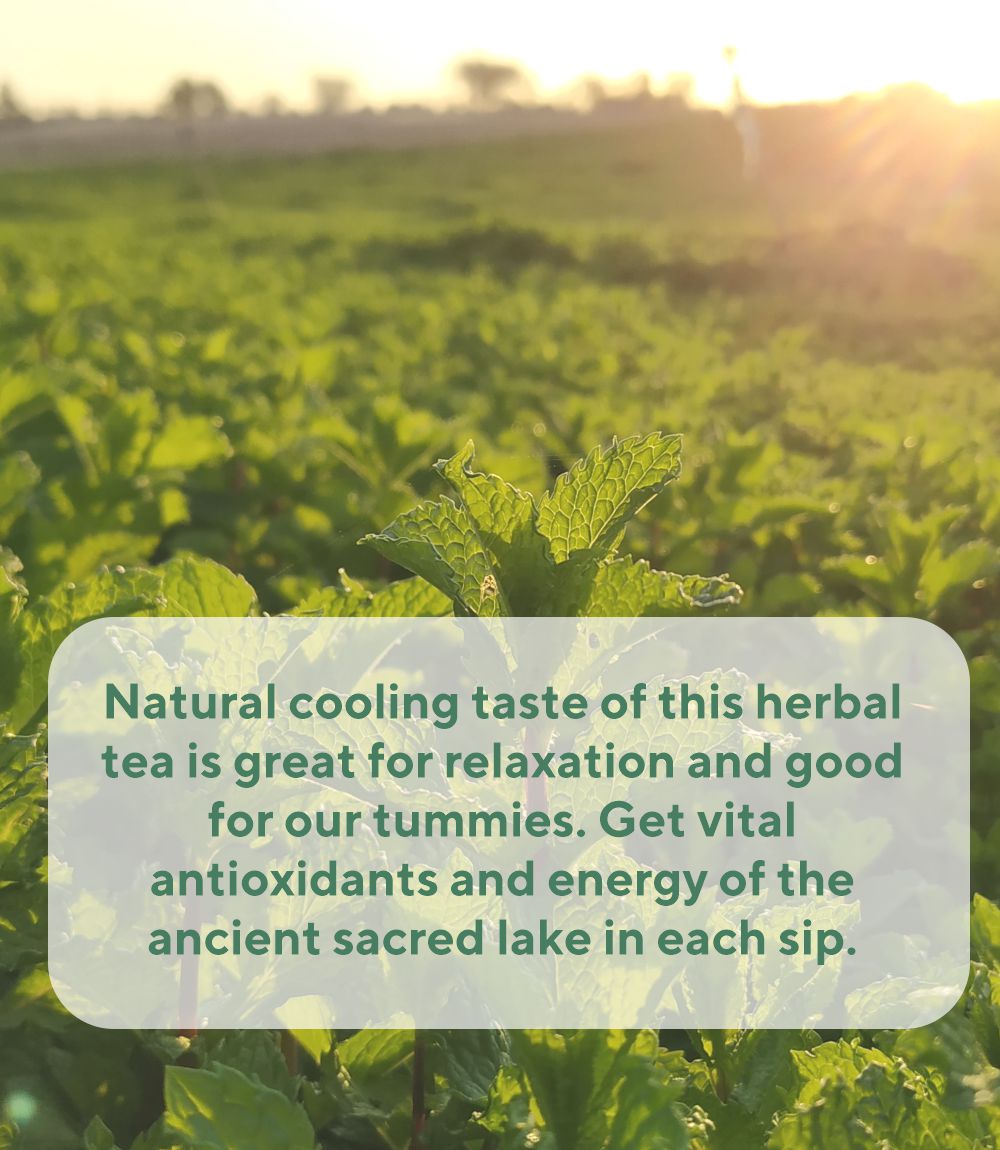 Peppermint Tea
Awaken your senses and invigorate your day with our Siberian Peppermint Tea, a luscious blend that's miles away from the ordinary. If you are a peppermint lover, you are in for an enticing experience. This isn't just any peppermint tea; it's a journey into the heart of Siberia's untamed wilderness.
But our tea is not just about the sensory experience. It's about harnessing the natural goodness of peppermint. This organic peppermint tea is an ally to your wellbeing, offering an array of health benefits. It's a comforting brew to have before bed or a soothing aid to help you with an upset stomach or bloating. Even in moments of nausea or discomfort, the cool kiss of peppermint in our tea is there to help.

Brewing Directions:

To enjoy, simply steep a teabag in boiled water and let the robust flavors unfurl. You can also try it as an iced peppermint tea for a cool summer treat or blend it with milk for a creamy mint delight. Feel free to personalize your brew with additional flavors like ginger or lemon.

Why You'll Love Our Siberian Peppermint Tea:

Choosing our Siberian Peppermint Tea is about embracing a refreshingly unique tea-drinking journey. We offer more than just a cup of tea, it's a lifestyle choice, a commitment to your well-being, and an opportunity to experience the invigorating and health-enhancing benefits of Siberian wild herbs. It's the cooling balm for your soul and your daily dose of refreshing relaxation.
We invite you to indulge in this delightful brew, relishing in the unrivaled zest of Siberian Peppermint. So why love our tea? Because it's where nature's bounty and your well-being perfectly intersect.

Peppermint Tea
Sale price

$12.49
Regular price

$0.00
View details
Instant Stress Reliever
Siberian Peppermint Tea offers the unrivaled cooling sensation of peppermint, known to be a natural soother. It's the perfect antidote for a stressful day, allowing your senses to find calm amidst the chaos and rejuvenate in the process.
Anti-Nausea
For those sudden bouts of nausea or motion sickness, reach out for a cup of this tea to find quick relief.
Nighttime Nectar
The calming properties of this tea make it an ideal companion right before bedtime. Its natural ingredients work in harmony to ensure you slip into a deep, restorative slumber, recharging you for the day ahead.
Pure Organic Goodness
The organic nature of Siberian Peppermint Tea means you're sipping on purity with every cup. Free from synthetic pesticides and chemicals, it's nature's way of offering health benefits in the most authentic form.
No More Stomach Problems
Struggling with digestive discomforts? This tea offers a gentle remedy for bloating, indigestion, and even occasional heartburn.
Aromatic Adventure
Beyond the health benefits, this tea is also a treat for the senses. The rich aroma and bold peppermint flavors transport you straight into Siberia's lush landscapes, making every sip an immersive experience.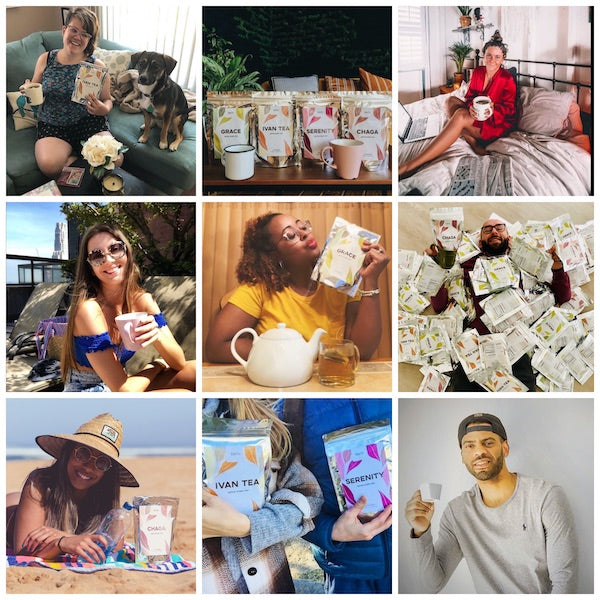 Why it's good for you
Peppermint Tea is more than just a delightful flavor experience—it's a natural wellness booster that offers a range of health benefits. Its cooling properties act as a natural stress-reliever, helping to melt away the tensions of the day. As a pre-sleep ritual, it helps guide you into a deep and restful sleep, perfect for rejuvenation.
Love this tea.
Add a little honey and it's the perfect refreshing tea.
Love it
Tastes good without all the chemicals on the little bag. Highly recommend
First of all I like pepperment!
I have found it to be as good or better than chamamile in the evening before bed or when I need to just calm down and relax.
I am becoming a fan!!
Thank you! Herbal tea is a great way to change states, from bustle and hustle to rest and digest. Stay well and keep on sipping!
Refreshing crisp mint tea
I was looking for caffeine free tea for a while and this tea was a perfect find! Not robust, rather crisp, refreshing and simply delicious. Perfect for summer as it is or with hint of lemon. When flu season, use it with honey.