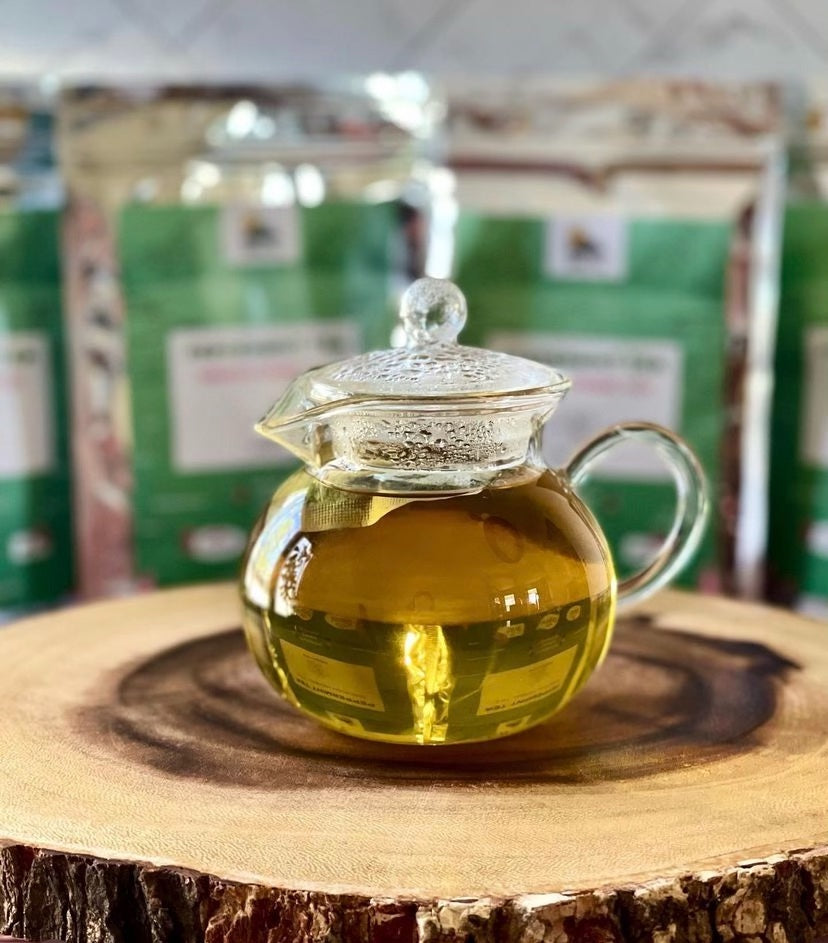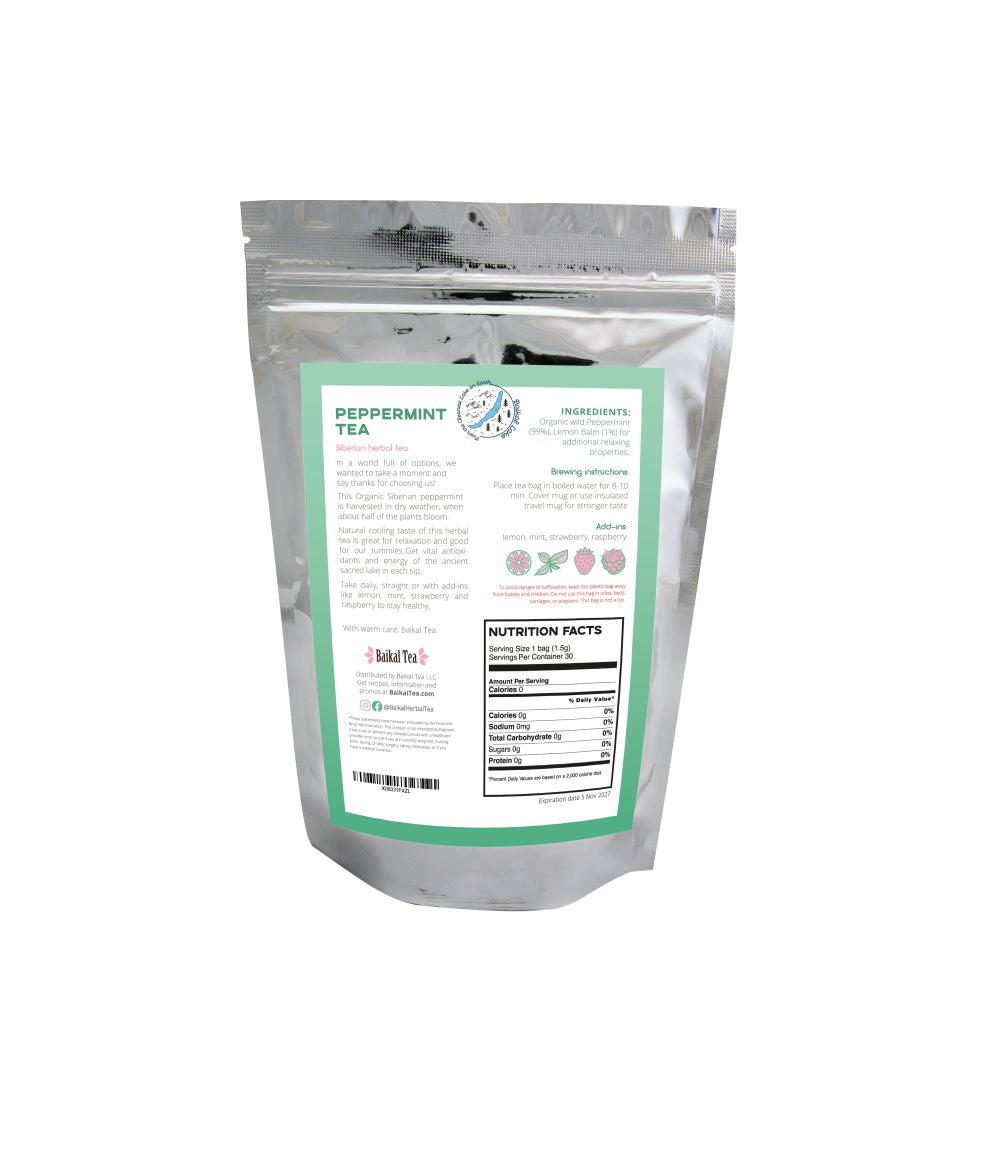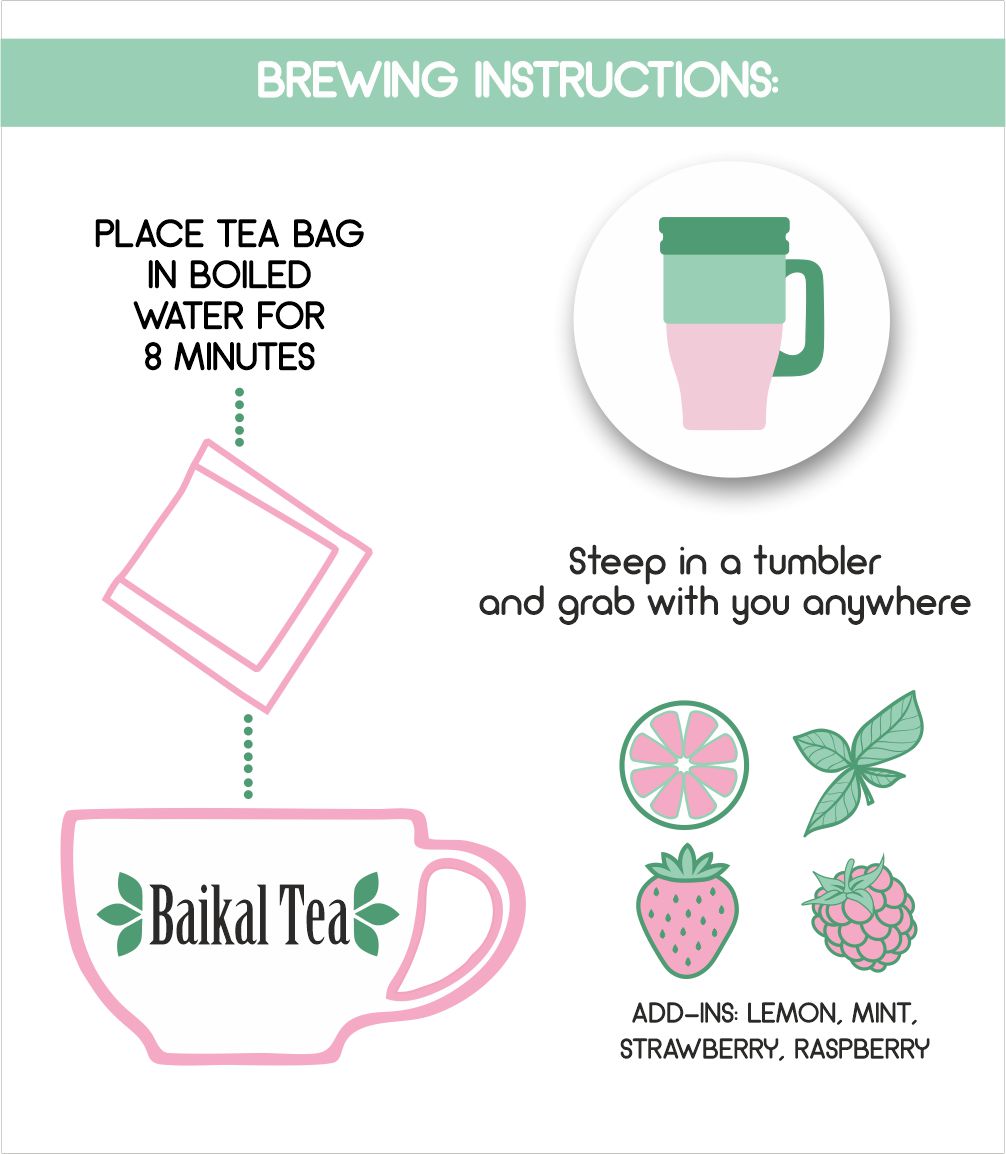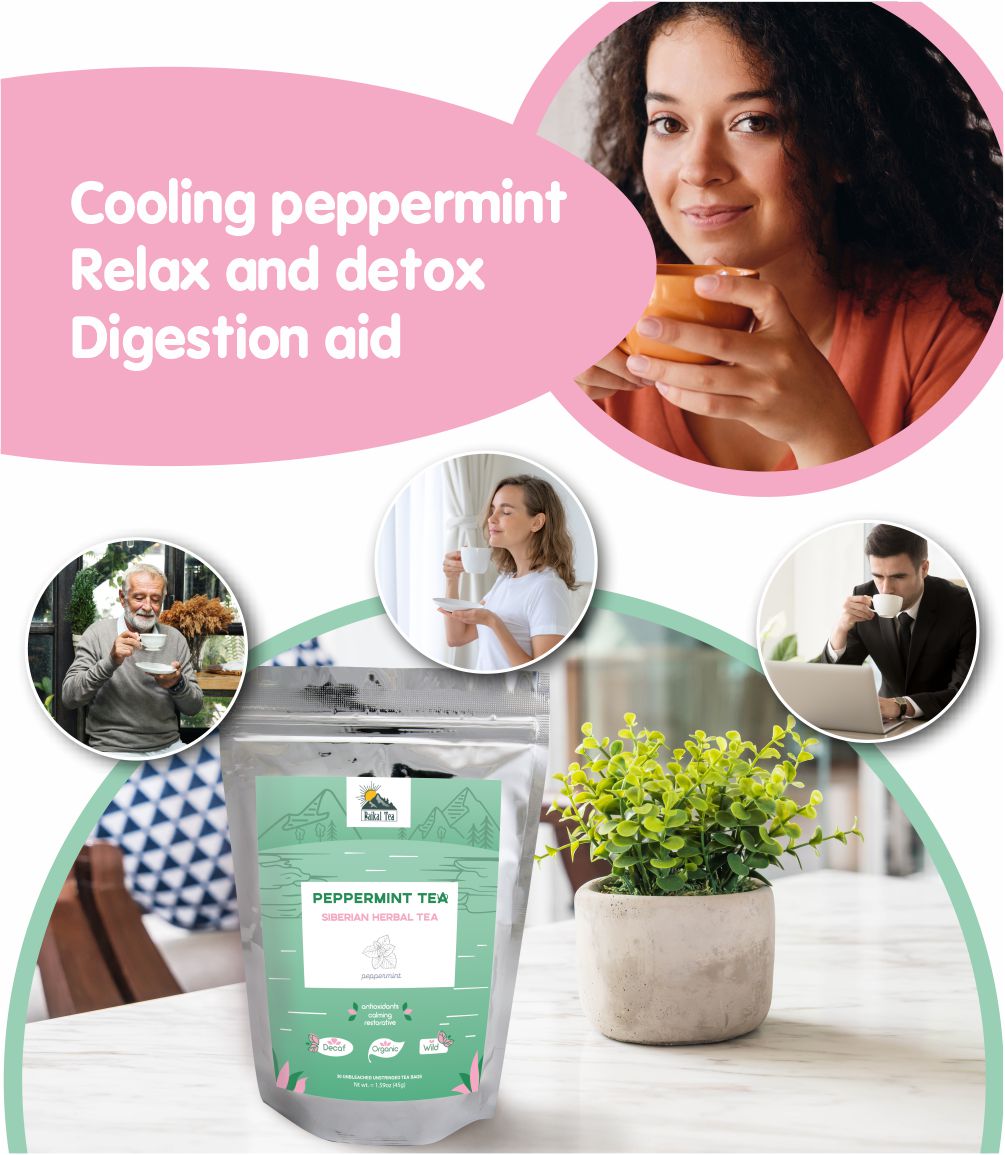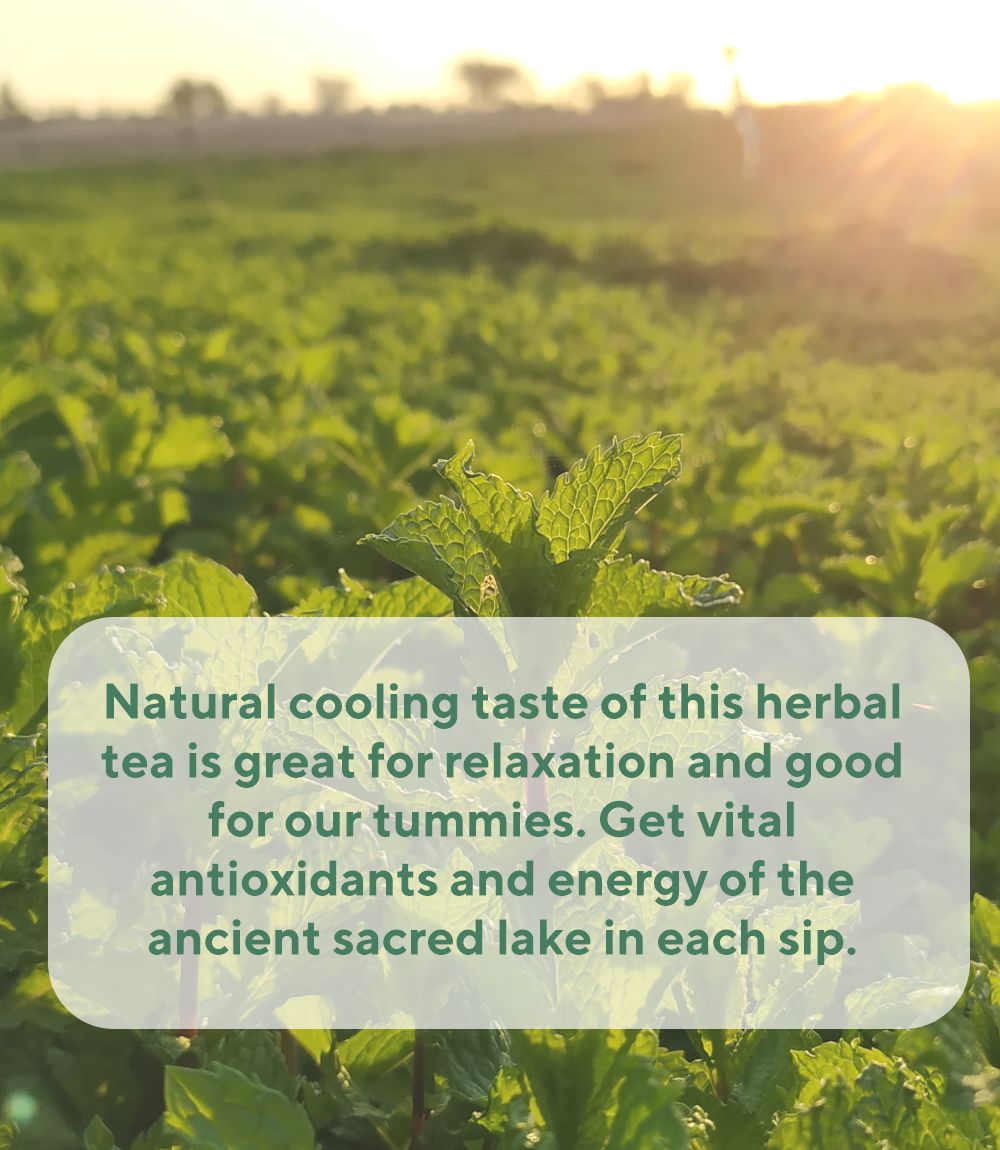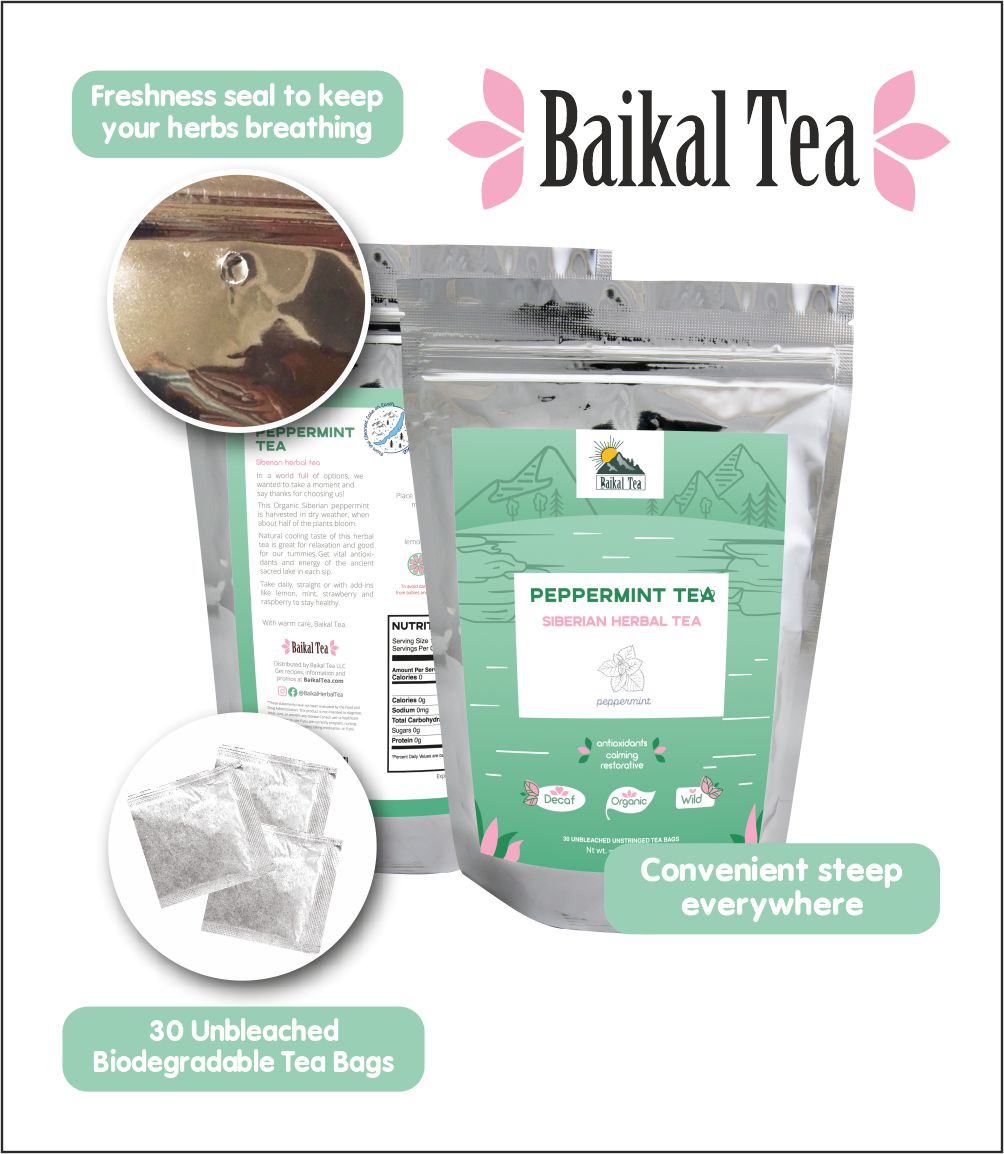 Peppermint Tea
Discover a burst of freshness with our Siberian Peppermint Tea! Bring comfort before bedtime, provide relief for tummy troubles or bloating, and ease queasiness. It's a calming remedy for your soul and a daily dose of relaxation.
Cooling, punchy and refreshing. This one is for real peppermint lovers! If you like minty things, you'll love this tasty, freshly aromatic peppermint from faraway Siberian forests. Brews a pleasant light green color, with eye-watering minty smell.
Peppermint Tea
Sale price

$12.49
Regular price
View details
Instant Stress Relieve
Siberian Peppermint Tea gives you a super cooling feeling, like when you eat peppermint candy. It's a peaceful break for your busy day, helping you feel relaxed and refreshed.
Anti-Nausea
When you feel like you might throw up or get sick from motion, grab a cup of this tea. It can help you feel better fast.
Evening Tea
This tea is great to have before bedtime because it helps you relax. It has natural herbs that help you sleep really well, so you wake up feeling fresh and ready for the day.
From Nature Itself
Siberian Peppermint Tea is all-natural, so you're drinking something really pure every time. It doesn't have any fake stuff like pesticides or chemicals. You're getting the healthy benefits straight from nature.
No More Stomach Problems
Having tummy troubles? This tea can help with bloating, feeling too full, and even heartburn.
Tasty and Delicious
This tea is not just good for you; it also smells and tastes amazing. It's like taking a journey to Siberia with its strong peppermint smell and taste. Every sip feels like you're right there in the wilderness.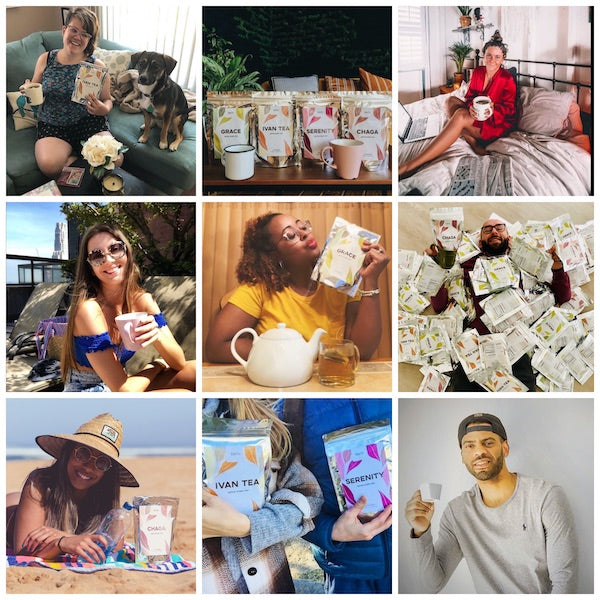 Why it's good for you
Peppermint Tea is not only delicious, but it also makes you feel better. It helps you relax and unwind after a busy day, and when you drink it before bedtime, it helps you sleep well and wake up refreshed.
Delicious flavor! I mix with their Ivan and Chaga teas!
I like to layer my daily teas with the peppermint tea. It comes in very nice packaging, smells and tastes delicious and is the perfect compliment to the Ivan and Chaga teas that I also order from them. Enjoy this delicious tea!
Love this tea.
Add a little honey and it's the perfect refreshing tea.
Love it
Tastes good without all the chemicals on the little bag. Highly recommend
First of all I like pepperment!
I have found it to be as good or better than chamamile in the evening before bed or when I need to just calm down and relax.
I am becoming a fan!!
Thank you! Herbal tea is a great way to change states, from bustle and hustle to rest and digest. Stay well and keep on sipping!
Frequently Asked Questions
Medicinal-quality Chaga & herbs, quick delivery, and exceptional customer service.

Our teams hand-pick Chaga and herbs from the natural reserves around the Cleanest lake on Earth. These regions are so wild and pristine, they are inscribed in UNESCO.

Our factory has a unique right of gathering herbs and Chaga in those regions and they have been doing so for 30+ years, serving European and Asian markets.

Baikal Tea has been happily serving American market for 5+ years.
We ship most orders within 36 hours or sooner, and it usually takes about 4 days to reach you via USPS.
Yes, we'll easily and quickly reimburse if you are not happy with the product. Just reach out to support@baikaltea.com and we'll take absolute best care of you.
You can contact us through our contact page or at support@baikaltea.com! We will be happy to assist you.