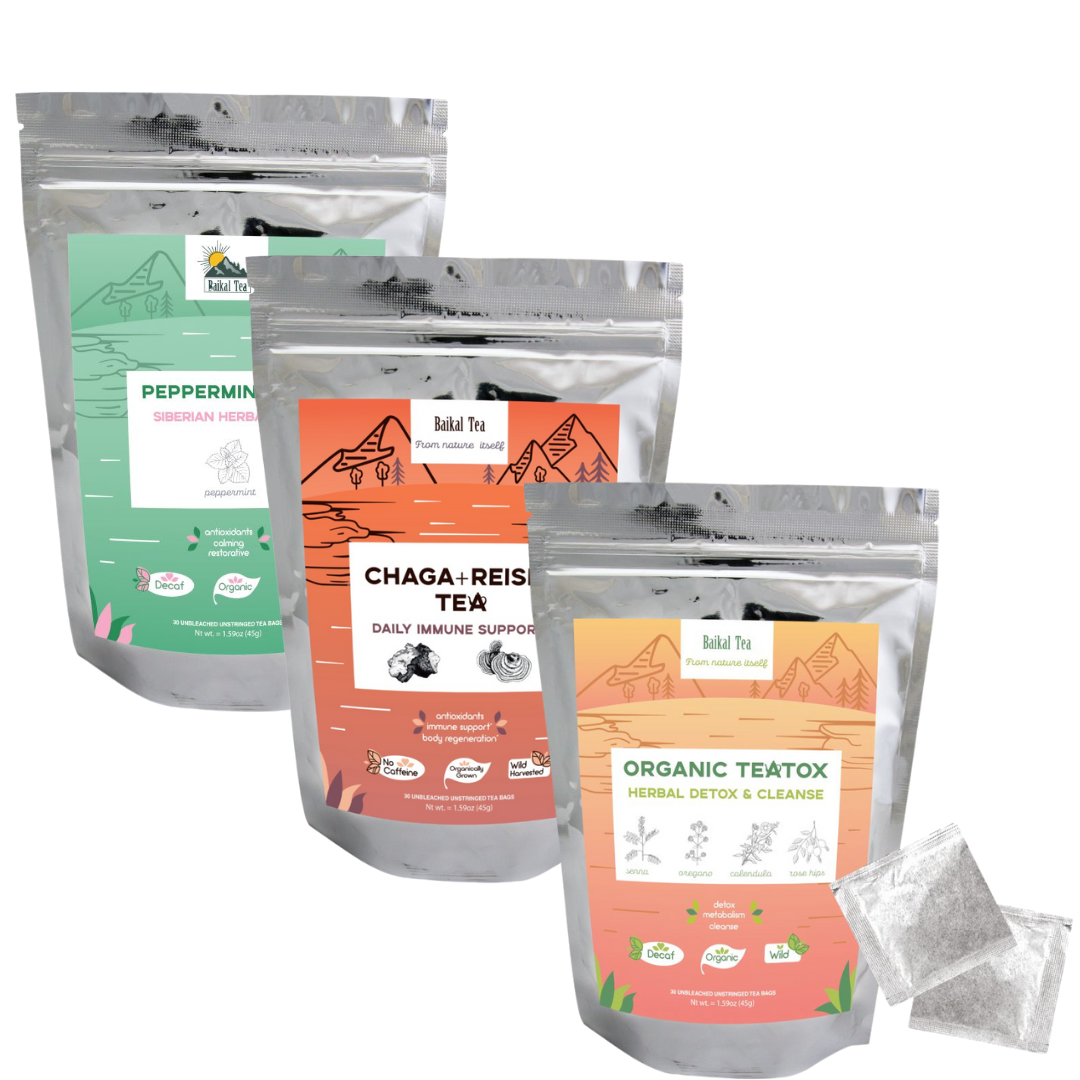 Baikal Collection
Our 3 newest teas in a bundle: Chaga Reishi, Peppermint, and Teatox for a full-body restoration. 30 tea bags of each. Normally $50+ with tax, this bundle is on a great discount: $39.95. Limited time deal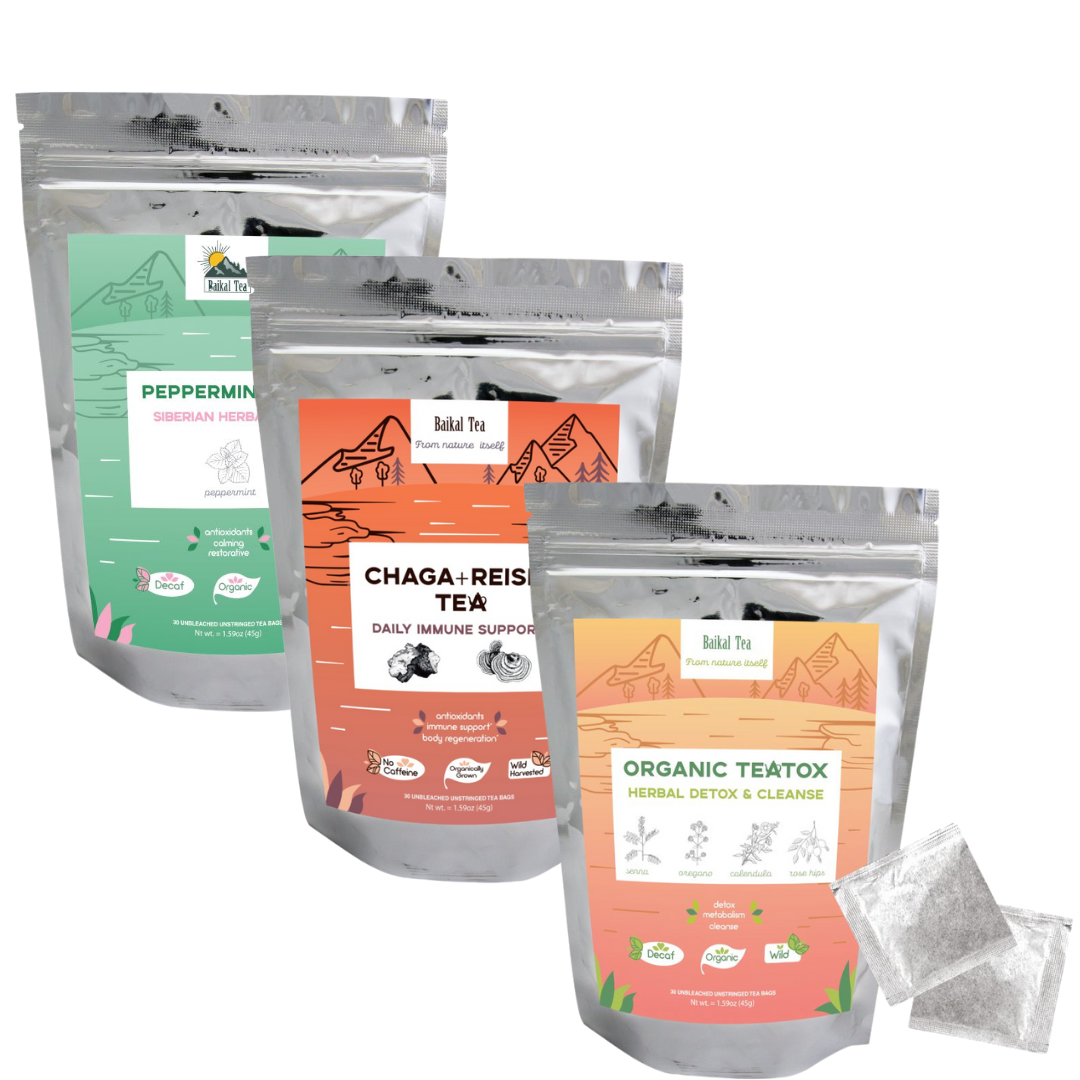 Baikal Collection
Sale price

$39.95
Regular price

$45.94
View details
Potent Antioxidant Powerhouse
Chaga and Reishi mushrooms are renowned for their high antioxidant content. When combined with the antioxidant properties in Teatox, this blend becomes a formidable defense against free radicals, potentially slowing aging and bolstering overall health.
Calm in a Cup
Reishi mushroom, often called the "mushroom of immortality," is known for its adaptogenic properties, helping the body manage and adapt to stress. Peppermint's refreshing notes further induce relaxation, making this blend a perfect de-stressor.
Promotes Digestion
Peppermint is a celebrated hero for the digestive system, easing discomfort and promoting a smooth digestive flow. Teatox, with its natural detoxifying properties, further supports gut health, ensuring a happy tummy.
Metabolic Booster
Teatox is celebrated for its ability to stimulate metabolism, assisting in natural detox and weight management. When coupled with the wellness benefits of Chaga and Reishi, it aids in achieving holistic vitality.
Immune System Enhancer
Both Chaga and Reishi mushrooms have been used traditionally to fortify the immune system. Paired with the vitamin-rich elements of Teatox, this blend becomes a robust shield against common ailments.
Heart Health Advocate
The combined anti-inflammatory properties of these ingredients contribute to a healthy heart. By potentially reducing inflammation and supporting blood vessels, this combo showcases its commitment to cardiovascular wellness.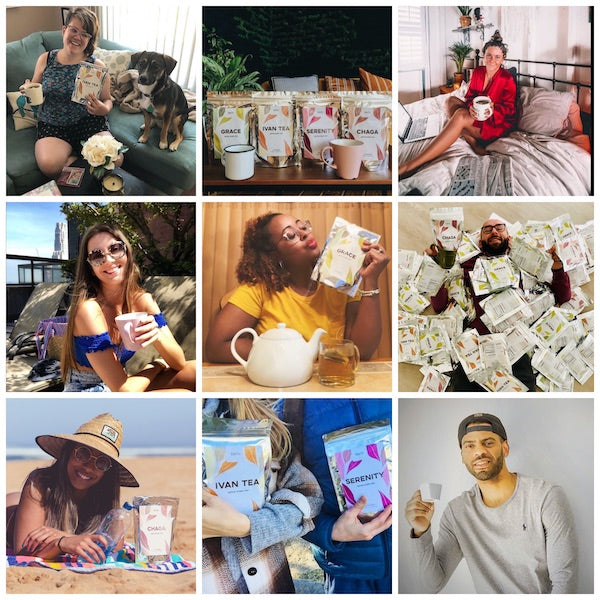 Why it's good for you
The fusion of Chaga, Reishi, Peppermint, and Teatox offers a harmonious blend of holistic health benefits. This concoction is a potent antioxidant powerhouse, with Chaga and Reishi shielding cells from free radical damage, promoting longevity and radiant skin. The blend champions digestive health, with peppermint easing tummy discomforts and Teatox aiding detoxification.
Frequently Asked Questions
Medicinal-quality Chaga & herbs, quick delivery, and exceptional customer service.

Our teams hand-pick Chaga and herbs from the natural reserves around the Cleanest lake on Earth. These regions are so wild and pristine, they are inscribed in UNESCO.

Our factory has a unique right of gathering herbs and Chaga in those regions and they have been doing so for 30+ years, serving European and Asian markets.

Baikal Tea has been happily serving American market for 5+ years.
We ship most orders within 36 hours or sooner, and it usually takes about 4 days to reach you via USPS.
Yes, we'll easily and quickly reimburse if you are not happy with the product. Just reach out to support@baikaltea.com and we'll take absolute best care of you.
You can contact us through our contact page or at support@baikaltea.com! We will be happy to assist you.