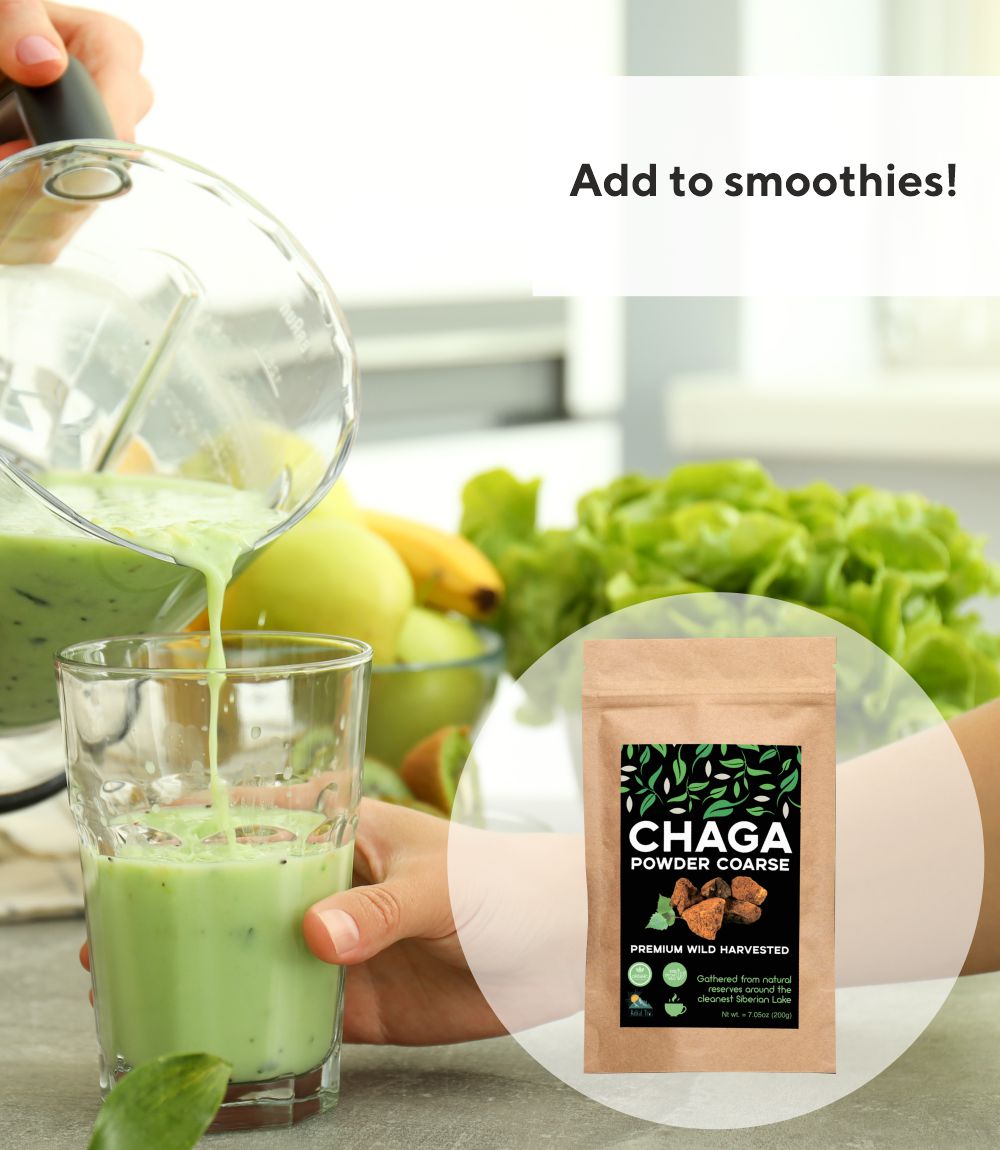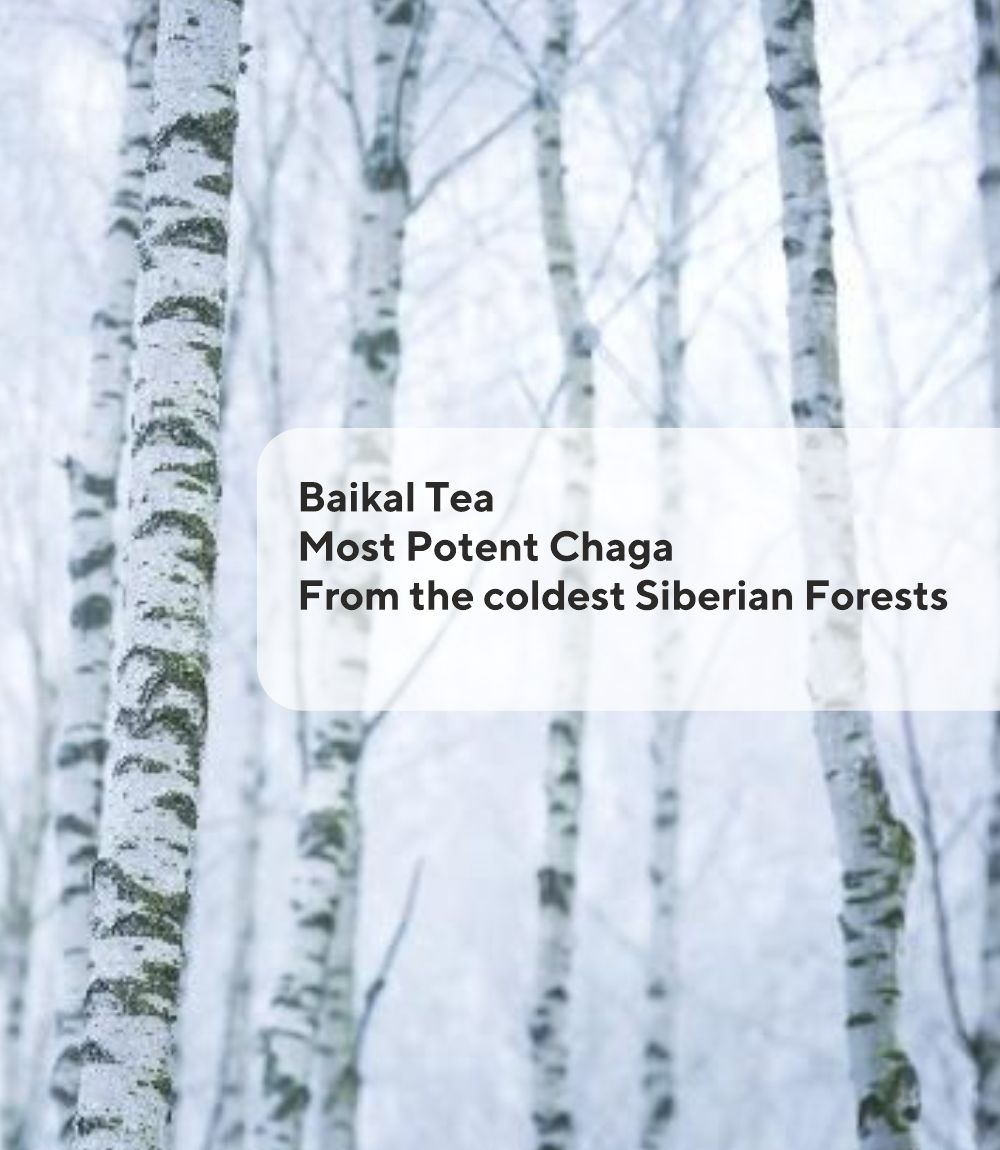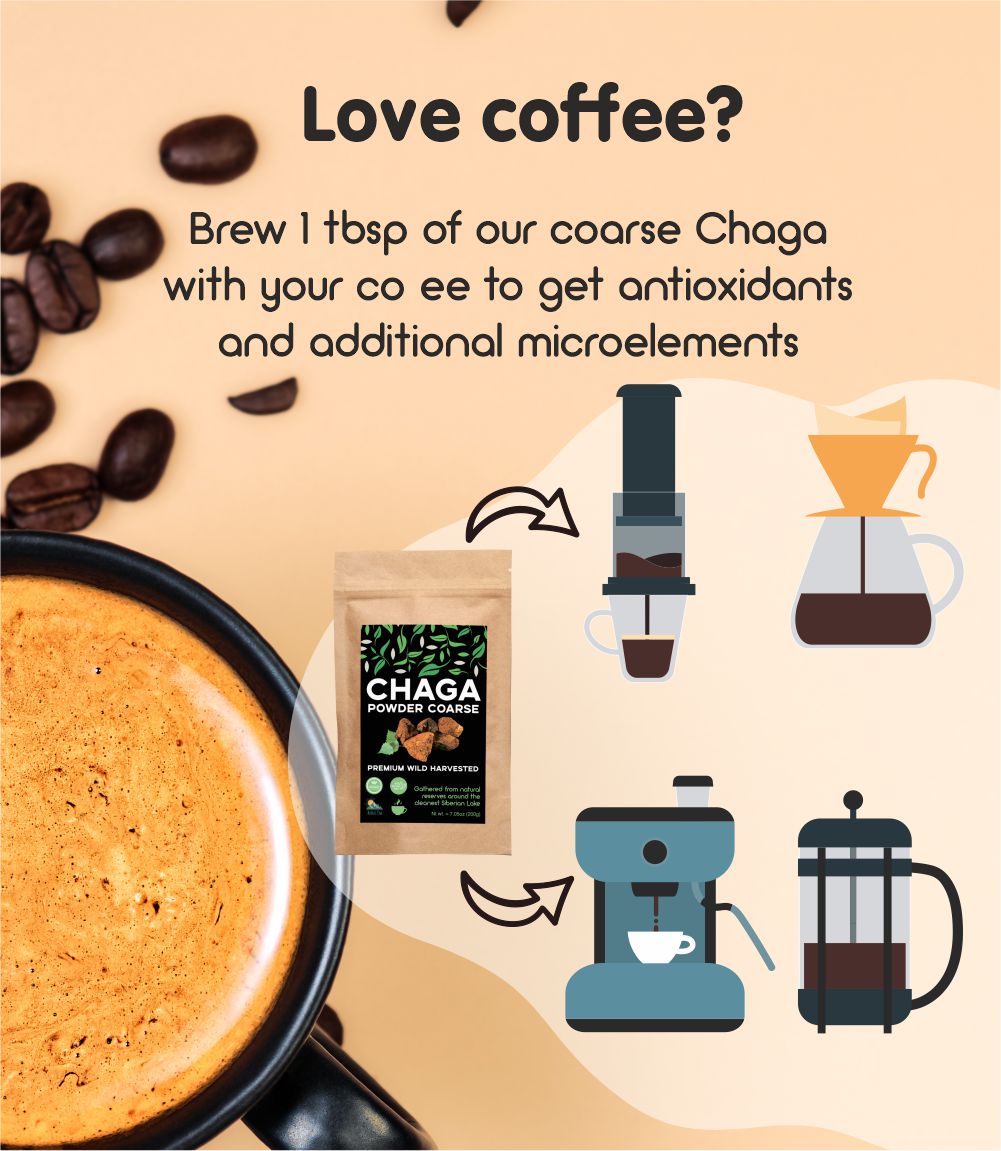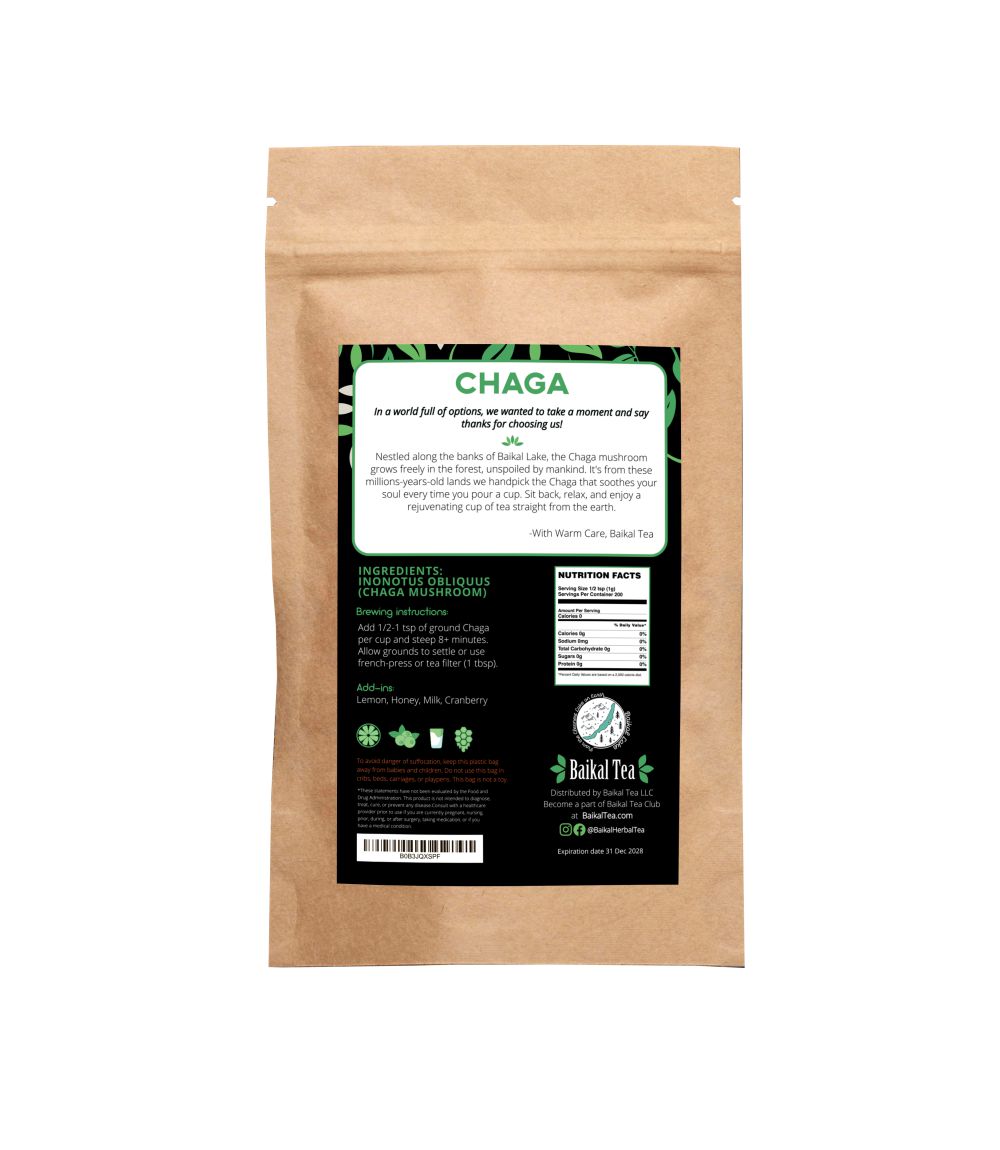 Loose Ground Chaga
Embrace the allure of the Siberian wilderness with our Loose Ground Chaga. This versatile form of Chaga allows you to experience its rich, earthy flavors and myriad benefits in a multitude of ways. The journey to a healthier lifestyle is as simple as adding a spoonful of this powerhouse into your favorite Chaga tea recipes.
Our ground chaga is your passport to well-being, offering a wide array of benefits. Rich in antioxidants, it helps safeguard your body against free radicals, empowering you to live life to its fullest. Its celebrated anti-inflammatory properties promise a journey of tranquility, aiding your body in achieving its natural balance. As our Chaga is caffeine-free, it can be enjoyed any time of the day without disturbing your peace.
Brewing Directions:
Making chaga tea from our Loose ground chaga is as easy as can be. Simply simmer a teaspoon of the ground chaga in hot water for about 8 minutes, and let the deep, earthy flavors of wild Siberian chaga unfold. Remember, balance is the key to fully appreciating the health benefits of chaga tea.
Why You'll Love Our Loose Ground Chaga:
Our chaga mushroom, finely ground for your convenience, comes straight from the wild, untouched forests of Siberia, nurtured by the peaceful, crystal-clear Baikal Lake. This authentic sourcing gives it a unique taste and the natural power to nourish your body and mind, making it the best Chaga for a lifestyle driven by natural wellness.
For those wondering, "What does chaga tea taste like?" or "Where can I buy chaga tea?", your search ends here. Our Loose Ground Chaga is your gateway to a lifestyle of balance and health, available to all, no matter where you are. It's more than a health supplement; it's your wellness journey in a biodegradable package. Start your journey today.
Loose Ground Chaga
Sale price

$34.99
Regular price
View details
Versatility in Every Spoon
The beauty of Loose Ground Chaga lies in its adaptability. Whether sprinkled into your morning smoothie or brewed into a robust tea, this format allows for a personalized Chaga experience, tailoring it to your tastes and culinary adventures.
Caffeine-Free Comfort
Many seek the warmth of a brew but without the jitters of caffeine. Loose Ground Chaga promises just that - a rich, flavorful experience anytime, without disturbing your sleep or calm.
Antioxidant Powerhouse
Loose Ground Chaga brims with antioxidants. These vital compounds wage war against free radicals, protecting your cells from potential damage. It's akin to gifting your body an everyday shield against environmental stressors.
Boosts Immunity
With its plethora of nutrients, Chaga has been traditionally touted to bolster the immune system, offering an additional layer of defense against seasonal bugs and promoting overall health.
Anti-Inflammatory Ally
Inflammation can be a silent disruptor. Thankfully, Chaga is renowned for its anti-inflammatory properties, offering a natural way to soothe discomforts and restore your body's equilibrium.
Supports Digestive Health
The bioactive compounds in Chaga can be a boon for the digestive system. Regular consumption may foster a healthier gut environment, facilitating smoother digestion and promoting gut wellness.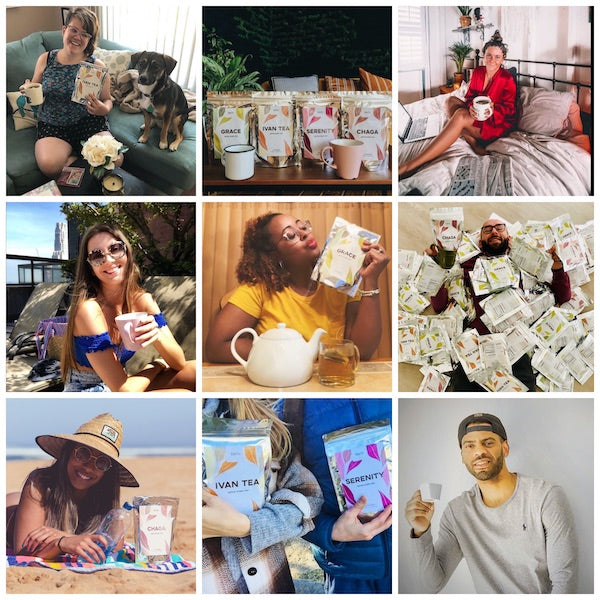 Why it's good for you
Loose Ground Chaga, sourced from the pristine expanses of the Siberian wilderness, is a beacon of health and vitality. Renowned for its versatility, it can seamlessly integrate into various recipes, delivering a burst of earthy flavor. Its caffeine-free nature ensures a calming experience, devoid of jitters, suitable for any time of the day.
Great stuff
I made a gallon of it put it in the fridge.
I boil it for a few hours .
That's the way I make chaga.
It's taste great.
Great quality.
This large package of chaga is a great value. Terrific fresh quality, great flavor.
Very Interesting and Good
So I'm a big tea drinker - I'll admit I was very skeptical about mushroom based tea. Long story short, not to shabby at all. I found that I preferred it with some cream and brown sugar, same as I take my black tea. I've gone through half the bag and still haven't found the best way to describe the taste.
It's coarsely ground and works perfect in a pot with a built in strainer for steeping, and 8-10 minutes really does seem to do the trick.
I would recommend anyone give this a shot, break out of your comfort zone and try something different.
Great for a standalone drink or adding to coffee
This coarse-ground chaga is convenient for making a delicious tea/broth without the sediment of using chaga powder.
I especially enjoy adding a small amount of chaga to coffee when brewing in a coffee press. It doesn't noticeably alter the flavor, but provides some extra health/immune benefits.
The bag is thick and resealable, so I don't see any issues with the shelf life of this product. Overall, definitely recommend.
Chaga
Fantastic tea! Helps eliminate all toxins from the body!