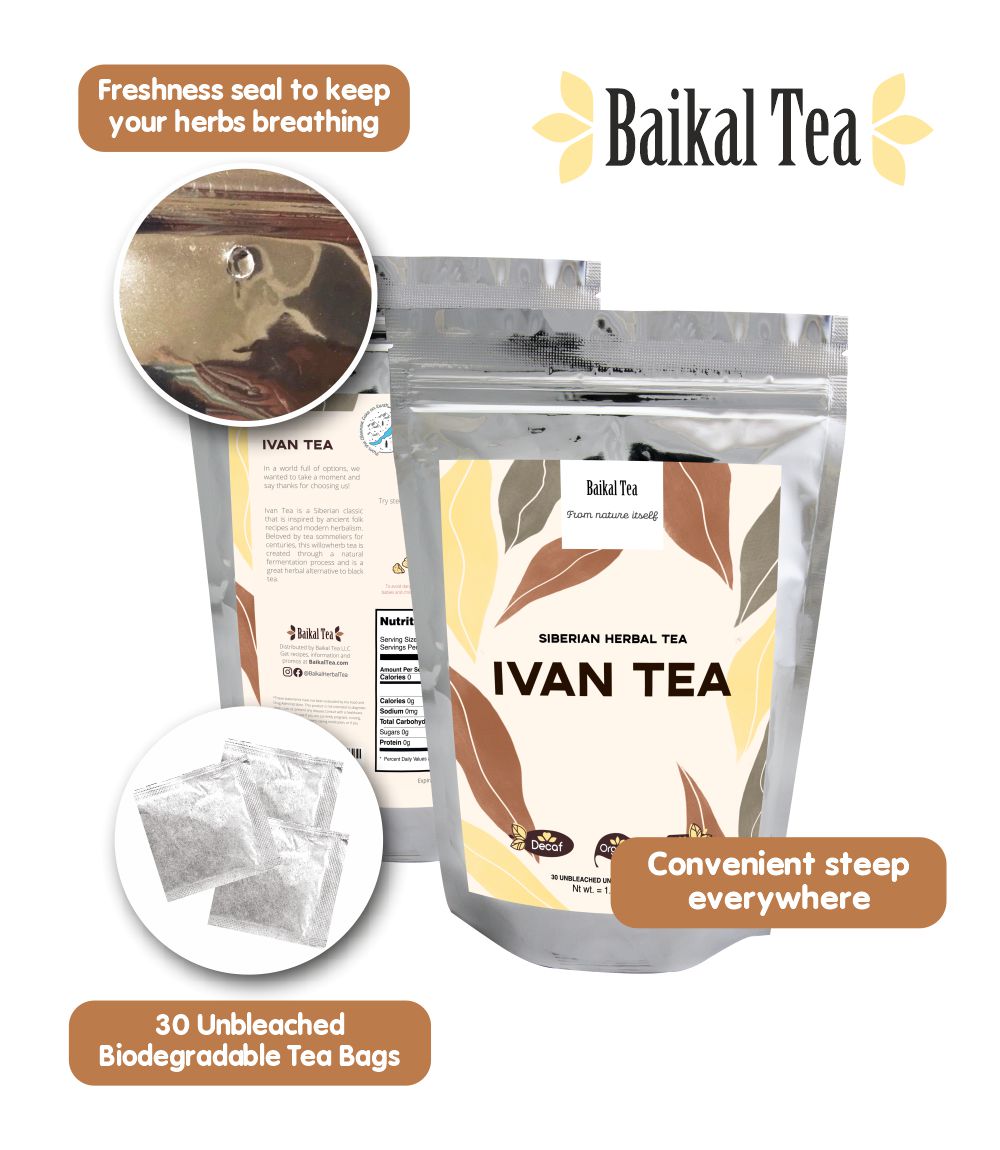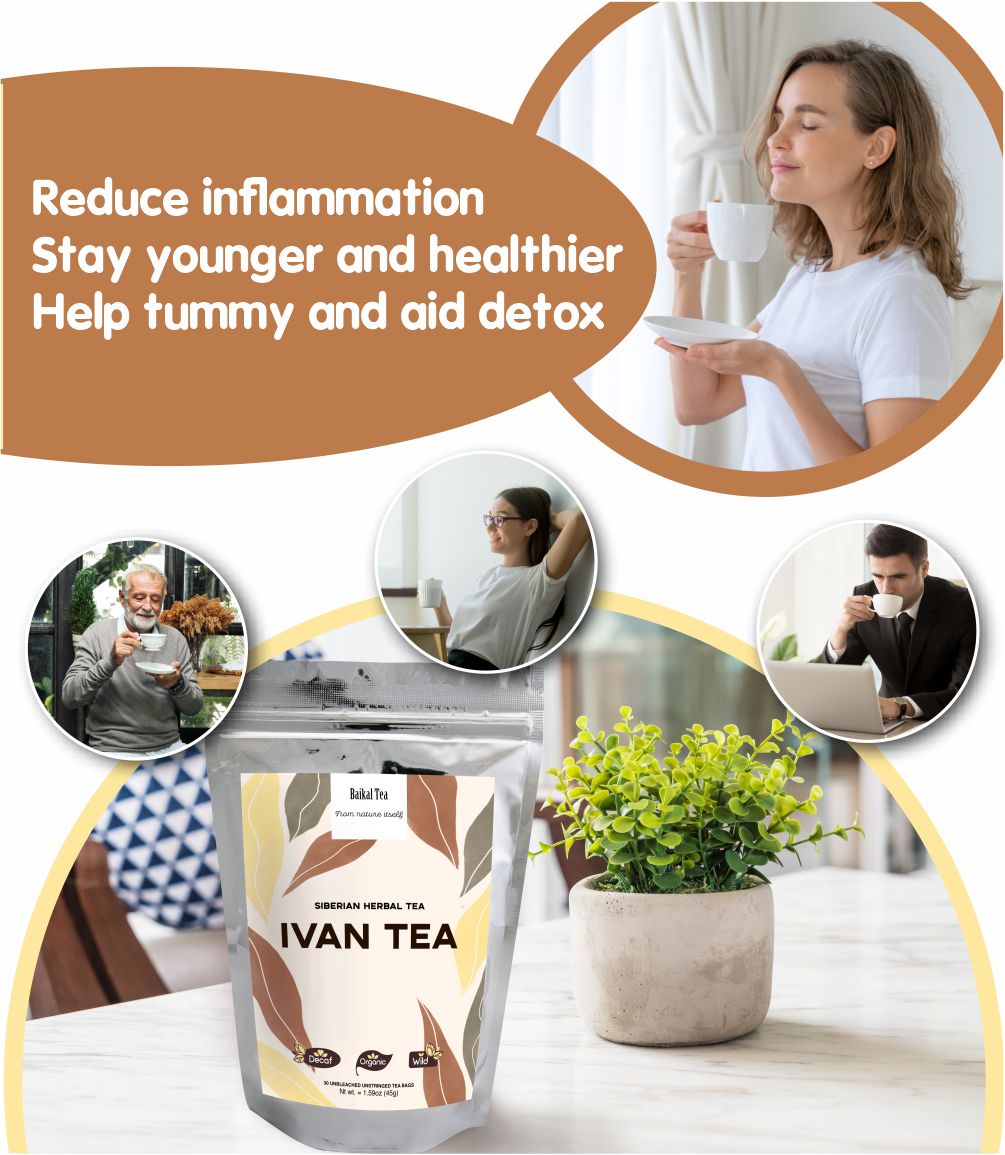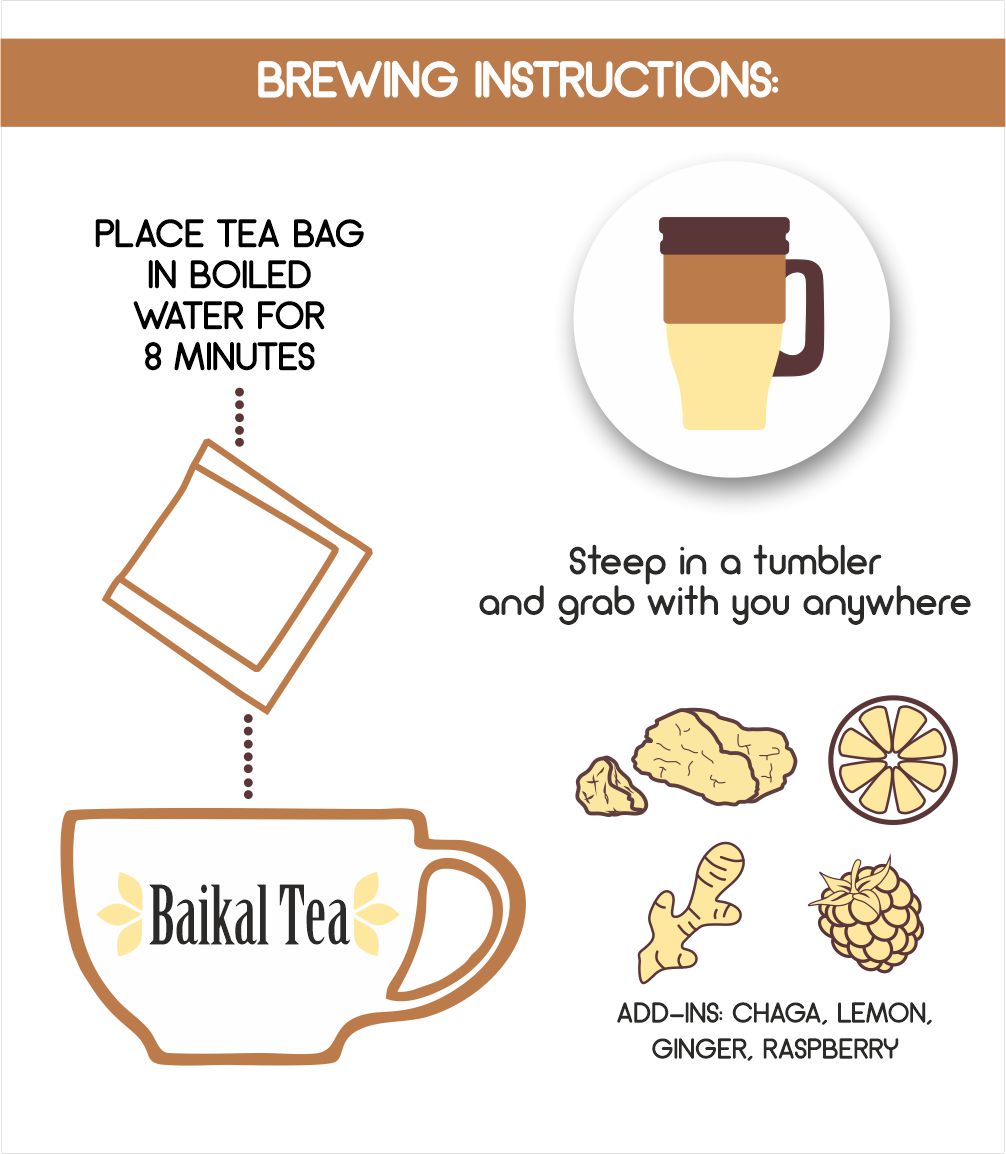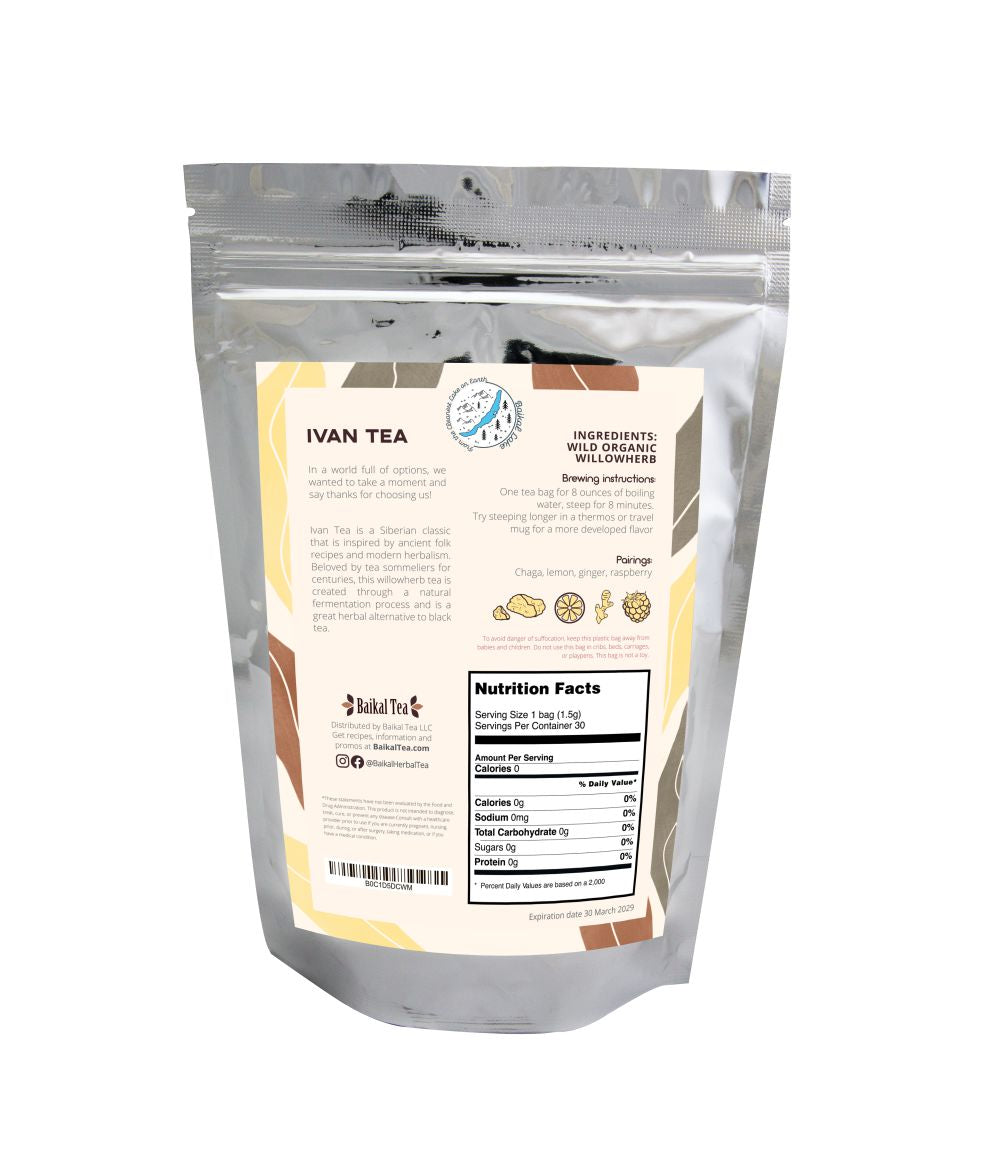 Ivan Tea
Discover the charm of our Ivan Tea, a soulful blend rooted in the long-established practices of North America. Each sip of this delightful infusion connects you to the rich heritage and pristine landscapes of the region. Imagine a vibrant pink fireweed flower unfurling after a forest fire, a symbol of nature's resilience and the heart of our Ivan Tea.
Our Ivan Tea is more than just a beverage; it's a lifestyle choice imbued with the power of wellness. A powerhouse of Vitamin C and antioxidants, this tea is your daily ally against inflammation and discomfort. And don't forget, with its caffeine-free nature, you can enjoy the soothing effect of Ivan Tea whenever you desire, day or night.

Brewing Directions:
Brewing our Ivan Tea is an act of simplicity, allowing the true essence of the fireweed to blossom. Add a tea bag to freshly boiled water, and let it steep for about 8 minutes. As you wait, ponder the miracle of nature, the resilience of the fireweed, and let it inspire balance in your life.
 
Why You'll Love Our Ivan Tea:
Choosing our Ivan Tea is an affirmation of your commitment to natural wellness. It's an ode to the resilient fireweed, the first to flourish after fires, reflecting your resilience in overcoming life's challenges. For those in search of authentic Ivan Tea or curious about "what Ivan Tea tastes like," your quest ends here. Embark on a journey of wellness today with our Ivan Tea, the perfect blend of tradition and health in every cup.
Ivan Tea
Sale price

$16.99
Regular price

$0.00
View details
Stress and Mood Enhancer
Ivan Tea has been traditionally appreciated for its calming effects. Its natural compounds can help in reducing stress levels, elevating mood, and promoting a sense of relaxation.
Natural Anti-Inflammatory
Feeling a little inflamed or uncomfortable? Ivan Tea comes to the rescue with its inherent anti-inflammatory properties, offering a natural solution to ease discomfort and promote overall well-being.
Vitamin C Boost
Ivan Tea is a treasure trove of Vitamin C, an essential nutrient known to enhance the immune system, promote healthy skin, and aid in the absorption of iron. It's like a protective shield, right in your teacup.
Caffeine-Free Tranquility
Whether it's the break of dawn or the hush of midnight, Ivan Tea's caffeine-free nature ensures you can relish its calming embrace without fretting about sleep disruptions or caffeine jitters.
Antioxidant Abundance
The antioxidants in Ivan Tea actively counteract free radicals, those cell-damaging agents. By reducing oxidative stress, it may help slow aging and fend off certain diseases, making it a rejuvenating elixir for the body.
Gentle Digestive Aid
A soothing cup after meals, Ivan Tea is believed to foster a healthy digestive environment. Its gentle properties can help alleviate minor tummy troubles, promoting a more harmonious gut. When our digestion flows smoothly, our overall sense of well-being is uplifted, making Ivan Tea an ideal choice for those seeking both taste and tummy comfort.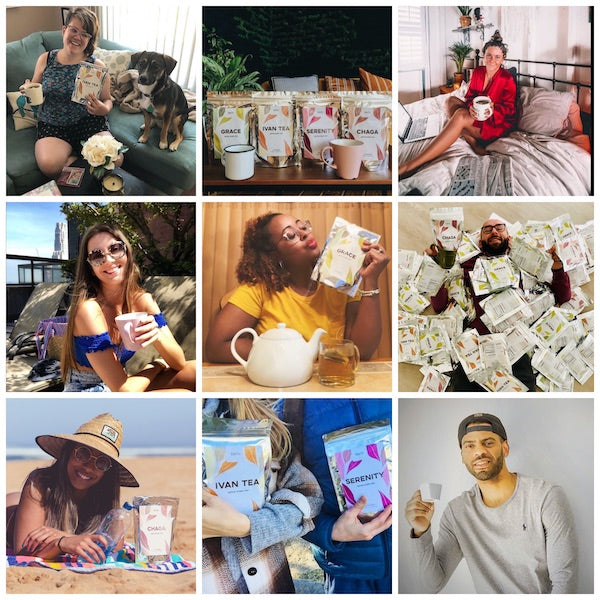 Why it's good for you
Known for its intrinsic anti-inflammatory properties, Ivan Tea can be your soothing ally against discomfort, potentially easing inflammation-related issues. Additionally, its gentle nature aids digestion, helping to alleviate minor stomach upsets. Beyond its physical benefits, Ivan Tea is also a mood enhancer, providing a natural calm amidst life's storms, especially given its caffeine-free character.




Premium Tasting Tea.
Premium tea with wild herbs that is great for wellness, energy and all around great drink day or night. If you like herbal tea thats soothing and smooth this is the one for you!
Happy
Very pleased with your teas. I'm 71 feel much better drinking your teas daily.
I give you 5 stars and recommend your teas highly. Jim in Indiana.
Pleasant taste, relaxing
One tea bag makes a very pleasant-tasting brew. My teen daughter prefers Baikal Tea Ivan Chai over any other kind. This tea is perfect for a relaxing time. We prefer not to sweeten it. Compared to less expensive, boxed Ivan Tea, this brand offers a more robust taste.
Willowherb - Ivan Tea
The body let's you know when something is beneficial to your health & Ivan Tea - Willowherb from Baikal lake is one of thoe things, Drink Up! 🍵
Very good
I really like the taste of this tea. I have only been drinking it for a few days so I can't speak to the health benefits yet. I do plan to order more when my current supply starts running low.