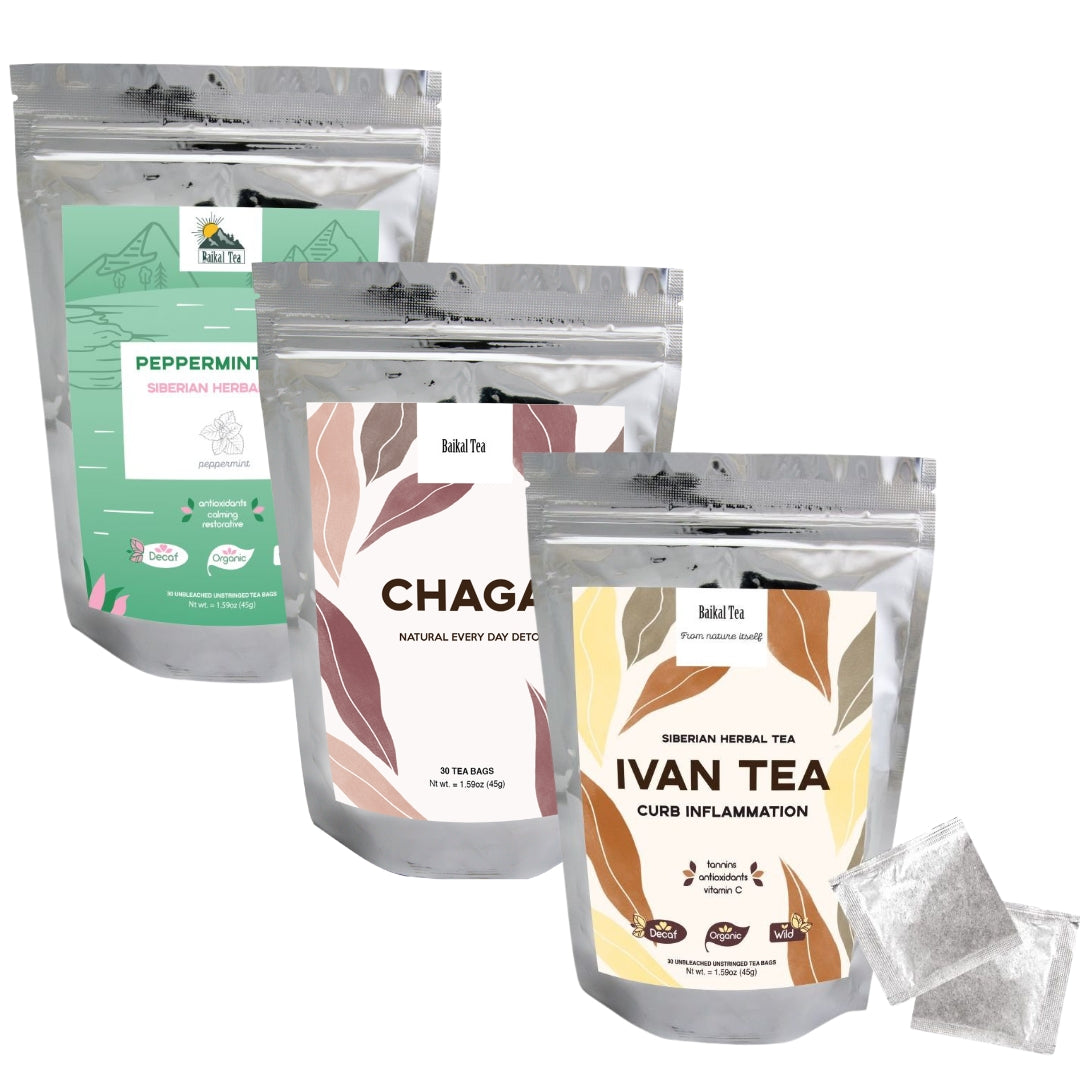 Self-Restoration Package
Save on a bundle: Chaga + Ivan Tea + Peppermint.
Revitalize, reconnect, and rejuvenate with our Self-Restoration Package.

Baikal Chaga:
Venture into the icy embrace of Siberia with the antioxidant-packed Baikal Chaga. This earthly delight, carefully hand-picked from Siberia's deep forests, provides a shield against free radicals, ensuring your body's defenses are at their peak. Plus, its caffeine-free nature allows you to indulge any time you wish, imparting ancient energy into your routine.

Ivan Tea:
Sail through North America's rich heritage with every sip of our Ivan Tea. Infused with the spirit of the resilient pink fireweed flower, this infusion is a tribute to nature's unparalleled vigor. Fortified with Vitamin C and antioxidants, it champions your fight against inflammation, making wellness an everyday affair.

Siberian Peppermint Tea:
A breath of Siberian air, this blend offers a refreshing respite from the mundane. Beyond its cool, minty allure, it serves as a steadfast ally in combating digestive discomforts and paving the way for restful nights. Organic, pure, and invigorating, it's a comforting hug in a cup.

Why choose the Self-Restoration Package?

Journey Through Flavors:
Spanning the earthy depths of Siberia to the heartwarming notes of North America, this package promises an unparalleled tasting journey.

Wellness Powerhouse:
With antioxidants from Chaga, anti-inflammatory properties from Ivan Tea, and digestive aids from Siberian Peppermint, it's a holistic health embrace.

Ancestral Wisdom:
Each blend in the package is steeped in tradition, allowing you to tap into ancient wellness practices with every brew.

All-Day Comfort:
Since all the teas are free from caffeine, they seamlessly fit into any part of your day, ensuring a serene experience whenever you desire.

The Self-Restoration Package is not just a tea collection—it's your personal rejuvenation ritual. Infuse tranquility, tradition, and therapeutic goodness into your daily routine and rediscover your best self with each brew.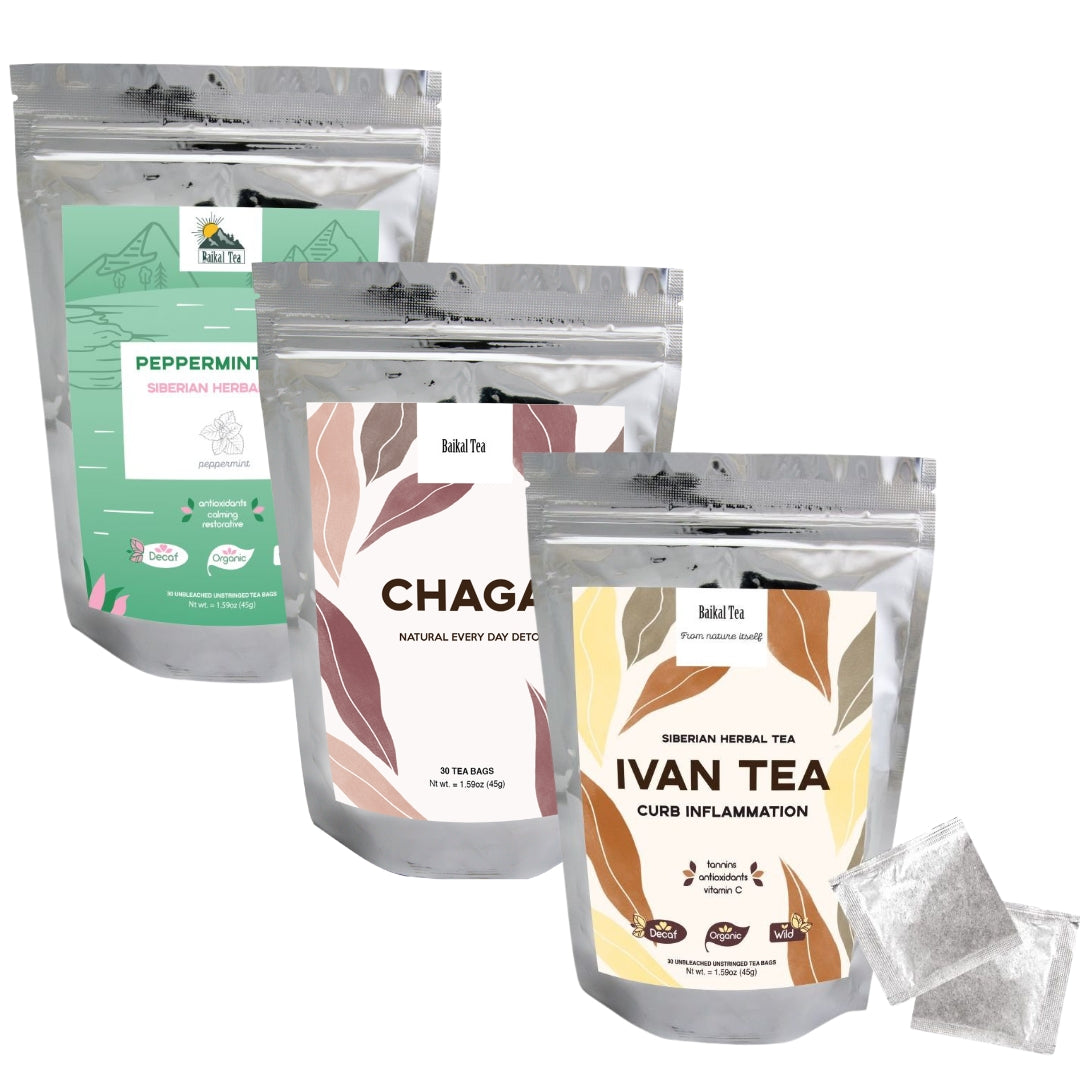 Self-Restoration Package
Sale price

$40.00
Regular price

$45.00
View details
Antioxidant Boost
The Baikal Chaga offers one of the highest levels of antioxidants available, protecting your body against the harmful effects of free radicals.
Stress Reduction
The Reishi present in Chaga provides adaptogenic benefits, helping to calm the mind, reduce stress levels, and improve sleep quality.
Anti-Inflammatory Properties
With the Vitamin C and antioxidants from Ivan Tea, your body gets a potent ally in reducing inflammation and its associated discomforts.
All-Day Adaptability
Being caffeine-free, each blend in the package can be enjoyed at any time of the day, whether you're kickstarting your morning or winding down in the evening.
Digestive Support
Siberian Peppermint Tea is known for its soothing effects on the digestive system, helping alleviate symptoms like bloating, upset stomach, and nausea.
Immune System Support
The rich blend of vitamins and minerals in the teas, particularly the Chaga, bolsters the body's natural defenses, aiding in a stronger immune response.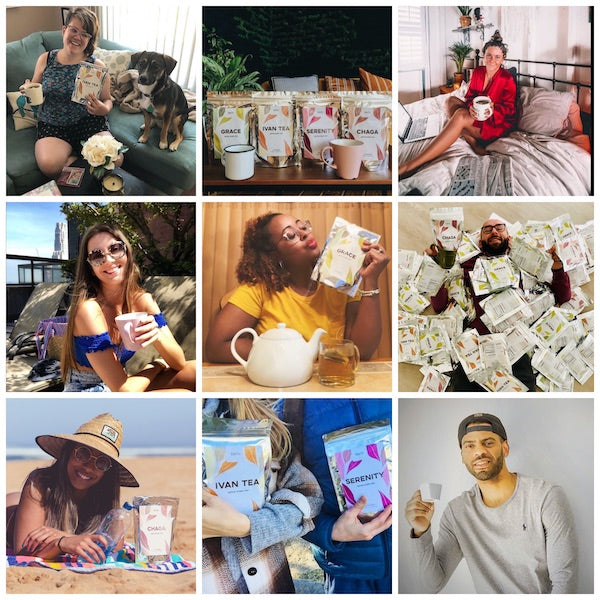 Why it's good for you
The Self-Restoration Package is a curated ensemble of nature's finest, blending the antioxidant-rich Baikal Chaga, the anti-inflammatory prowess of Ivan Tea, and the digestive soothe of Siberian Peppermint Tea.